As we enter November, the thought of cooler weather is on everyone's mind.  Condo renovations are winding down as the "no noise" season approaches and everyone is starting to prepare for the holidays.  Many of the retail stores has already decorated for the Christmas holiday.  2019 condo sales continue to remain somewhat lackluster compared to this point in 2018. In October, there were only 9 re-sale closings compared to 15 re-sale closings last October; and 30 new listings compared to 43 last year.
Let's take a closer look at the results in oceanfront condominium re-sales through October 2019 on Singer Island:
There have been 132 condo re-sales on Singer Island through October 2019; a 16% decrease from this time last year.  The sold prices averaged 93% of list price.
Year-to-date 58% of the condo re-sales were under $500K, with 16% being in the $1 million plus range.
There were no short sales in October; as well as, none year-to-date.
The highest re-sale in October was Via Delfino 1001 for $1,700,000; and the least expensive sale was Cote D'Azur 1-106 at $330,000.
As of the end of October condo inventory increased to 157 units.
Price per square foot of the older condos (built 1969-1989) increased to $360; and the price per square foot of the newer condos (built 2003-2008) decreased to $629 through October 2019.
Slow Down in Luxury Condo Sales
Major cities across the United States saw a large number of luxury condos transform their skyline the past five years — units that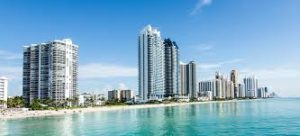 boasted glitzy waterfronts and sparkling city views, with a hefty price tag. But now, many units are sitting empty and thousands of unsold units are clogging up the real-estate market.
Large cities across the U.S., including Los Angeles and New York City, also saw a big boom in condo developments during the past five years, only to see many remain empty. Economists say a fourth of more than 16,000 new condos built in the Big Apple over the last six years remain unsold.
Softening economies in Latin America and China have dealt a huge blow to luxury real estate markets across the country. Experts say a glut of high-end condos has also over-saturated the market, leading to a growing number of empty towers.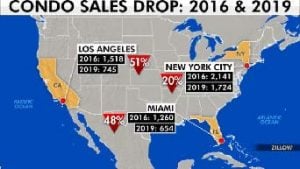 According to data from real-estate data companies Zillow, StreetEasy and Luxury Homes Los Angeles, condo sales have seen a steep decline over the last several years. Looking at the months January through September, in Miami, 1,260 units sold in 2016. This year, just 654 units sold, representing a 48 percent sales decrease. In New York, in 2016 there were 2,141 units sold. This year, only 1,724 units were sold, showing an almost 20 percent drop in sales.
According to Tony Mariotti, the owner and realtor of Luxury Homes Los Angeles, sales have been flat among luxury condos, or those valued $3 million and above. Eight units sold in the L.A. market in September 2019, compared to seven in the same month in 2015. However, the inventory this year is nearly threefold: 144 units were on the market compared to 54 at the same time in 2015.
In New York City, 63 condo buildings with more than 5,600 units are listed on StreetEasy. Construction is still far outpacing sales, said Grant Long, an economist with real-estate data company StreetEasy. Agents say even more are in the pipeline.
Agents say one thing is certain: For units to be sold in this competitive market, prices must be lower. That means negotiating power is in the hands of buyers, and now could be a good time to buy.
Our Market Update provides detailed information regarding condos newly listed, pending and sold on Singer Island for the current month.
Enjoy this information prepared just for you!
CALL us today if you are thinking about selling or buying! Your referral is our best compliment!
The Walker Real Estate Group, as the #1 Luxury Sales Team on Singer Island, believes that providing our customers a true concierge experience has been a major factor in our success. Trust, integrity and knowledge of the market is our number one priority.
For more information on specific condominium sales activity contact Jeannie at 561-889-6734 or email her at [email protected]. See All Realtor listings on our website: www.WalkerRealEstateGroup.com.