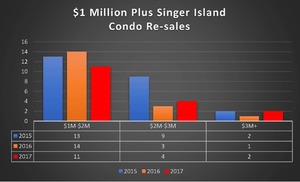 As we enter the last quarter of 2017, let's take a moment to reflect on the first 10 months of the year.  The real estate market on Singer Island has not been as active as forecasted in the beginning of the year.  We expected volatility in 2016 with the contentious presidential election.  2017 proved to be a prosperous year for the stock market, economic and job growth, still the local real estate market (i.e. Singer Island) has continued to lag.  In October there were only 13 re-sale closings with one condo over $1 million; plus 22 new listings.  Condos over $1 million have taken the largest decline with only 17 units selling year-to-date.  One obvious reason is the influx of new construction on the island.  While there were only 17 re-sales in the $1M+ range, new construction had 34 units go under contract this year with five units at 5000 North Ocean (averaging $2.96M per unit) and 29 units at Vista Blue (averaging $2.68 per unit).
Let's take a closer look at the results in oceanfront condominium re-sales through October 2017 on Singer Island:
There have been 135 condo re-sales on Singer Island through October 2017; a 16% decrease from this time last year.  The sold prices averaged 94% of list price.
Year-to-date 48% of the condo re-sales were

under $500K

, with 12.6% being in the $1 million plus range.
There were no short sales in October; and only one year-to-date.
The highest re-sale in October was Connemara 2002 for $1,300,000; and the least expensive sale was Phoenix Towers B-4C at $299,000.
The end of October condo re-sale inventory has decreased to 150 units.
Price per square foot of the older condos (built 1969-1989) decreased slightly to $318; and the price per square foot of the newer condos (built 2003-2008) also decreased slightly to $554 through October 2017.
And Then There Were Three
On November 10, 2017 the Amrit had its grand opening.  This marks the third new condo construction project on singer Island since the completion of the Ritz Carlton Residences in January of 2008.  As we have written about in previous newsletters, Vista Blue is nearing completion and due to open in the Spring of 2018; 5000 North Ocean has broken ground and is still several years from opening.  Now we have the Amrit who has also broken ground.
The Amrit Ocean Resort will include 198 condos and 155 hotel rooms. Condo prices range from $700,000-plus for 1,450-square-foot units to more than $4 million for penthouses.  Premier Sales Group of Fort Lauderdale will market the units; this is the same group that marketed the Ritz Carlton Residences on Singer Island.
The theme of the Amrit is health and wellness with the two towers named "Peace" and "Happiness".  The complex will include a spa and wellness facility. A beachfront garden will offer shaded areas for outdoor massages and yoga classes. An oceanfront demonstration kitchen will host cooking classes that address topics such as super foods and juice cleanses.
Residents' condo fees will include some basic wellness services, such as use of the gym and an occasional massage. Residents will have the option to hire resident health assistants who will coach them on nutrition and sleep. For residents who are willing to have their vital signs monitored closely, assistants will make note of their blood pressure and breathing patterns.
Please email us should you like more information on Amrit.
Our Market Update provides detailed information regarding condos newly listed, pending and sold on Singer Island for the current month.
Enjoy this information prepared just for you!
CALL us today if you are thinking about selling or buying! Your referral is our best compliment!
As the #1 Sales Team on Singer Island, Walker Real Estate Group providing our customers a true concierge experience has been a major factor in our success.  Trust, integrity and knowledge of the market is our number one priority.
For more information on specific condominium sales activity contact Jeannie at 561-889-6734 or email her at [email protected].
See All Realtor listings on our website: www.WalkerRealEstateGroup.com.