With the year-end rapidly approaching, it's time to reflect back on 2019 as well as look ahead to 2020.  The weather has turned cooler and everyone is prepared for the holidays; retail stores have decorated for the Christmas holiday.  2019 condo sales continue to remain somewhat lackluster compared to this point in 2018. In November, there were 9 re-sale closings compared to 7 re-sale closings last November.  Year-to-Date, condo transactions decreased 15% from 2018, sales volume also dropped 18% from a year ago.
Let's take a closer look at the results in oceanfront condominium re-sales through November 2019 on Singer Island: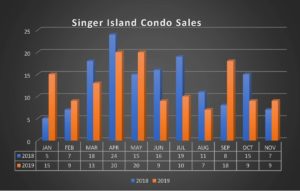 There have been 141 condo re-sales on Singer Island through October 2019; a 15% decrease from this time last year.  The sold prices averaged 93% of list price.
Year-to-date 59% of the condo re-sales were under $500K, with 16% being in the $1 million plus range.
There were no short sales in November; as well as, none year-to-date.
The highest re-sale in November was Ritz Carlton Residence 503B for $1,610,000 (a Walker Real Estate Group listing); and the least expensive sale was Connemara 206 at $295,000.
As of the end of November condo inventory increased to 171 units.
Price per square foot of the older condos (built 1969-1989) decreased to $333; and the price per square foot of the newer condos (built 2003-2008) decreased slightly to $622 through October 2019.
What Will the Real Estate Market Do in 2020
"2020 will prove to be the most challenging year for buyers, not because of what they can afford but rather what they can find," said George Ratiu, senior economist at Realtor.com.  Professional analysts are all over the board when forecasting the real estate market for 2020; although they all seem to agree on three points:
Baby boomers have little incentive to move, causing a shortage in home inventory
Millennials have become the dominant purchasing group
Mortgage rates will remain near historic lows through the year
While a recession isn't likely in 2020, the economy is expected to soften as uncertainty about global trade weighs on growth, Ratiu said. That outlook is going to influence Baby Boomers to stay in place. "With housing prices expected to stabilize and concern over economic uncertainty, there will be little incentive for Baby Boomers to sell in the coming year," the Realtor.com report said. The cohort of Americans born between 1946 and 1964 "will continue to hold onto their homes," rather than move to retirement communities like many of their parents did, according to the report.
Even though home-builders likely will be ramping up production, it's not going to provide enough relief to keep home sales increasing, the forecast said.  "Despite increases in new construction, next year will once again fail to bring a solution to the inventory shortage that has plagued the housing market since 2015," the report said.  Additionally, homebuilders are focusing on the upper-tier market where there is a greater profit margin.
"The largest cohort of millennials will turn 30 in 2020—historically, that's when people tend to think of buying their first home," says Danielle Hale, chief economist at realtor.com. The oldest millennials will be turning 39. By the middle of the year, she says, this generation will account for more than 50% of mortgages taken out in the country. Yes, that's more than all other generations, combined.
"Family changes tend to drive home-buying decisions," Hale notes. "Millennials are going to be active in the housing market not just because they're just at the age when they're thinking about becoming first-time home buyers, but they're also in the age range when they're having kids."  But while they may be motivated, they'll face a lot of competition for the scarce homes on the market—from roughly 71 million of their peers nationwide.
Mortgage interest costs probably will continue to remain low in 2020, according to a Fannie Mae forecast. The average rate for a 30-year fixed mortgage probably will be 3.85%, the forecast said. That compares with an average of 3.9% for 2019.
Home-buyers who have recently borrowed fixed-rate mortgages have benefited from interest rates at historical lows. After reaching a high of nearly 19% in 1981, mortgage rates have steadily declined and remained in the low single digits. Since the housing crisis in 2008, rates have consistently stayed under 6%, with the rate on 30-year fixed-rate mortgages bottoming out at 3.31% in November 2012.
With a booming economy, historic low unemployment across all demographics, strong GDP and rising stock market, 2020 should be a prime year for real estate activity.
Our Market Update provides detailed information regarding condos newly listed, pending and sold on Singer Island for the current month.
Enjoy this information prepared just for you!
CALL us today if you are thinking about selling or buying! Your referral is our best compliment!
The Walker Real Estate Group, as the #1 Luxury Sales Team on Singer Island, believes that providing our customers a true concierge experience has been a major factor in our success. Trust, integrity and knowledge of the market is our number one priority.
For more information on specific condominium sales activity contact Jeannie at 561-889-6734 or email her at [email protected]. See All Realtor listings on our website: www.WalkerRealEstateGroup.com.