With the end of 2018 approaching, we are able to evaluate the Singer Island condo real estate market performance for 2018.  Condo sales activity has shown steady improvement for the year. Although condo transactions only increased 9% from 2017, sales volume shot up 23.5% from a year ago.  Growth in GDP, employment and consumer confidence, has translated into positive real estate activity that should continue going into 2019.
With the closing of November 2018, let's take a closer look at the results in oceanfront condominium re-sales for the first eleven months of the year on Singer Island: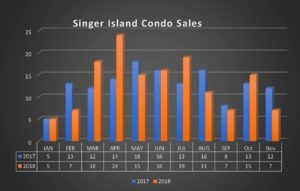 There have been 165 condo re-sales on Singer Island through November 2018.  The sold prices averaged 92% of list price.
Year-to-date 51% of the condo re-sales were under $500K, with 18% being in the $1 million plus range.
There were no short sales in November; as well as, none year-to-date.
The highest re-sale in November was The Resort at Singer Island for $3,500,000; and the least expensive sale was Phoenix Towers B-8A at $405,000.
As of the end of November, condo inventory has increased to 177 units.
Price per square foot of the older condos (built 1969-1989) remains steady at $315; and the price per square foot of the newer condos (built 2003-2008) continues to decreased to $574 through November 2018.
What Will the Real Estate Market Do in 2019?
Ask ten professionals how the real estate market will preform in 2019 and you will get 11 opinions.  The key question is how to prepare for growth in activity. This begins by accurately forecasting the market in 2019. It will be important to watch the following three indicators in the next six months:
existing home sales,
housing units authorized but not yet started and
real disposable personal income.
Existing Home Sales
Existing home sales climbed 1.4 percent in October from September. Despite the monthly gain, existing home sales were still down 5.1 percent year-over-year, according to the latest data from the National Association of Realtors (NAR).
"After six consecutive months of decline, buyers are finally stepping back into the housing market," NAR Chief Economist Lawrence Yun said. "Gains in the Northeast, South and West — a reversal from last month's steep decline or plateau in all regions — helped overall sales activity rise for the first time since March 2018."
This is the weakest indicator for the industry right now. Fewer people are buying homes in 2018, but confidence is high this indicator will be different a year from now so long as the consumer is healthy, and wages continue to grow.
Housing Units Authorized But Not Yet Started
This is a very positive indicator right now. The limited inventory in the U.S. has led to inflated price points. There are nearly 170,000 residential units ready to be built, which is the highest level reached in a decade. Once these homes hit the market, there will be a needed growth of inventory, which should spur sales.
Real Disposable Personal Income
This is not a typical indicator for the real estate industry, but with housing affordability playing such a pivotal role in this current climate, real disposable personal income has jostled into the forefront of leading indicators for the real estate industry. Seeing a rise in wages would serve as a boost to new home sales and new home construction.
The key for the industry will not only be about whether the housing supply grows but also about whether the consumer is in a place to actually afford a new home; and whether or not the consumer is employed and if their wages are growing, which would render homes affordable even in the face of other counteracting factors, such as rising interest rates and high lumber costs.
Our Market Update provides detailed information regarding condos newly listed, pending and sold on Singer Island for the current month.
Enjoy this information prepared just for you!
CALL us today if you are thinking about selling or buying! Your referral is our best compliment!
We are looking at another banner year for the Walker Real Estate Group. Providing our customers a true concierge experience has been a major factor in our success. Trust, integrity and knowledge of the market is our number one priority.
For more information on specific condominium sales activity contact Jeannie at 561-889-6734 or email her at [email protected]. See All Realtor listings on our website: www.WalkerRealEstateGroup.com.