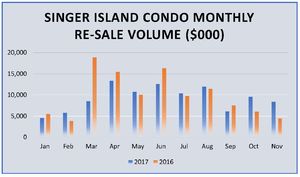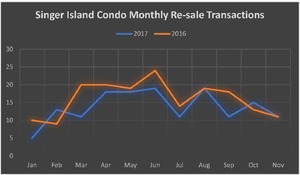 With the end of 2017 approaching, we are able to evaluate the condo real estate market performance on Singer Island for 2017.  Overall condo sales activity has remained sluggish for the year with condo transactions off 15% from 2016, as well as, sales volume down 7% from a year ago.  As the economy accelerates through growth in the stock market, GDP, employment and consumer confidence, we hope to see this growth translate in to positive real estate activity going into 2018.
Let's take a closer look at the results in oceanfront condominium re-sales through November 2017 on Singer Island:
There have been 151 condo re-sales on Singer Island through November 2017; a 15% decrease from this time last year.  The sold prices averaged 93% of list price.
Year-to-date 48% of the condo re-sales were under $500K, with 14% being in the $1 million plus range.
There were no short sales in November; and only one year-to-date.
The highest re-sale in November was Ritz Carlton Residence 1503B for $1,725,000; and the least expensive sale was Connemara 1902 and Aquarius 1004 at $375,000.
The end of November condo re-sale inventory has increased to 175 units.
Price per square foot of the older condos (built 1969-1989) remained steady at $318; and the price per square foot of the newer condos (built 2003-2008) decreased slightly to $551 through November 2017.
All Signs Point to a Dynamic Economy in 2018
Stock market, employment, mortgage interest rate and consumer confidence are all at year highs or continuously increasing.
Stock Market:  It's important to remember that the stock market is not a referendum on the state of liberalism or conservatism. It is not a barometer of moral progress. And it is not a report card on the president of the United States (even if he wishes it were). The stock market is a collective daily wager on the future performance of the nation's public companies. And they are, to employ a technical term, making a boatload of money right now. In the first quarter of this year, corporate profits reached an all-time high.  The DOW continues to set record highs.  It has set 80 new record closing highs since the 2016 presidential elections.  For the first time ever, the Dow reached four 1,000-point milestones in one year.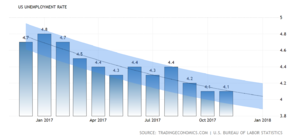 Employment: At a 16-Year low, the US Unemployment Rate remained at 4.1% in November.  It had edged down by 0.1 percentage point to 4.1 percent in October, and the number of unemployed persons decreased by 281,000 to 6.5 million. Since January, the unemployment rate has declined by 0.7 percentage point, and the number of unemployed persons has decreased by 1.1 million. It is the lowest unemployment rate since February 2001.
Mortgage Interest Rates: "According to the CME's FedWatch Tool, by June 2018 there is a 79 percent probability that the target Fed Funds rate will be at least 50 basis points (0.50 percent) higher than today. By November, there's an 89 percent chance that rates will be at least 50 basis points higher than now."  Dr. Clifford Rossi, professor of finance at the University of Maryland, also agrees that rates are headed north, only not quite as high. He believes rates will range between 4 and 4.25 percent in six months and 4.2 and 4.4 percent by this time next year.
"Economic growth is starting to pick up. Meanwhile, unemployment rates remain quite low," says Rossi. As a result, "I expect mortgage rates to edge up only moderately in the coming year." Rossi says.  The good news is that fixed mortgage rates have remained buyer-friendly and near historic lows throughout 2017. The bad news is that there's no guarantee they'll remain in this range for long.
Consumer Confidence: The Consumer Confidence Index, which had improved in October, increased further in November. The Index now stands at 129.5 (1985=100), up from 126.2 in October.  "Consumer confidence increased for a fifth consecutive month and remains at a 17-year high (Nov. 2000, 132.6)," said Lynn Franco, Director of Economic Indicators at The Conference Board. "Consumers' assessment of current conditions improved moderately, while their expectations regarding the short-term outlook improved more so, driven primarily by optimism of further improvements in the labor market. Consumers are entering the holiday season in very high spirits and foresee the economy expanding at a healthy pace into the early months of 2018."
Our Market Update provides detailed information regarding condos newly listed, pending and sold on Singer Island for the current month.
Enjoy this information prepared just for you!
CALL us today if you are thinking about selling or buying! Your referral is our best compliment!
As the #1 Sales Team on Singer Island, Walker Real Estate Group providing our customers a true concierge experience has been a major factor in our success. Trust, integrity and knowledge of the market is our number one priority.
For more information on specific condominium sales activity contact Jeannie at 561-889-6734 or email her at [email protected].
See All Realtor listings on our website: www.WalkerRealEstateGroup.com.