2018 continues to show improvement over the last two years on Singer Island with condo re-sale closings increasing 17% and sales volume increasing over 42% compared to this time last year.  In addition to these positive results, Vista Blue is complete and began closing on its new units.  They had 18 of their 58 units close in May, and another 10 under contract.
Let's take a closer look at the results in oceanfront condominium re-sales for the first five months of 2018 on Singer Island: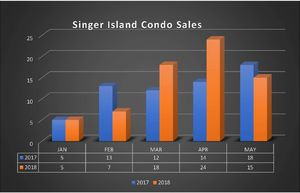 There have been 76 condo re-sales on Singer Island through May 2018.  The sold prices averaged 92% of list price.
Year-to-date only 45% of the condo re-sales were under $500K, with 21% being in the $1 million plus range.
There were no short sales in May; as well as, none year-to-date.
The highest re-sale in May was Ritz Carlton Residence 2603A for $3,350,000; and the least expensive sale was Cote D'Azur 1-804 at $350,000.
As of the end of May, condo inventory has decreased to 165 units.
Price per square foot of the older condos (built 1969-1989) remains steady at $325; and the price per square foot of the newer condos (built 2003-2008) increased to $602 through May 2018.
Hurricane Season Preparedness – 2018
June 1st is the official start of Hurricane Season in Florida with it ending on November 30th. Once again it is time to take stock of emergency supplies and make sure evacuation plans are current NOAA's Climate Prediction Center is forecasting a 75-percent chance that the 2018 Atlantic hurricane season will be near- or above-normal.
NOAA's forecasters predict a 70-percent likelihood of 10 to 16 named storms (winds of 39 mph or higher), of which 5 to 9 could become hurricanes (winds of 74 mph or higher), including 1 to 4 major hurricanes (category 3, 4 or 5; with winds of 111 mph or higher). An average hurricane season produces 12 named storms, of which 6 become hurricanes, including 3 major hurricanes.
"This is a more challenging hurricane season outlook than most because it's difficult to determine whether there will be reinforcing or competing climate influences on tropical storm development," said Gerry Bell, Ph.D., lead seasonal hurricane forecaster with NOAA's Climate Prediction Center. "However, a near-normal prediction for this season suggests we could see more hurricane activity than we've seen in the last three years, which were below normal."
"While seasonal forecasts may vary from year to year — some high, some low — it only takes one storm to significantly disrupt your life," stated FEMA Deputy Administrator Joseph Nimmich.
The two most important items after a storm are water and ice. It is suggested residents should have a storm supply of three days' worth of nonperishable food and a five-day water supply (one gallon per person per day) in the event of a hurricane. An even better goal is a five- to seven-day supply of nonperishable food and a seven-day water supply of three gallons per person per day.
Several points to keep in mind:
Keep spare cash handy in case ATMs aren't working,
Hang onto at least one hardwire telephone in case cellular service goes out,
Keep your gas tank full,
Have a plan for your pet(s) since most emergency shelters won't accept them,
Keep prescriptions filled and copies of them in a waterproof box or folder, along with other important documents such as birth records, insurance policies and records of home valuables,
Have a caretaker who can look in on your property after the storm.
For a more in-depth guide to disaster preparation, Mike Spranger, a storm-preparation expert at the University of Florida (UF), has published a 140-page handbook called the "Florida Homeowners Handbook to Prepare for Natural Hazards" (Free-online).
Hopefully, Mother Nature smiles favorably on us again this year; but, let's be prepared in the event of a storm.
Our Market Update provides detailed information regarding condos newly listed, pending and sold on Singer Island for the current month.
Enjoy this information prepared just for you!
CALL us today if you are thinking about selling or buying! Your referral is our best compliment!
We are hopeful for another banner year for the Walker Real Estate Group. As the #1 Sales Team on Singer Island, providing our customers a true concierge experience has been a major factor in our success. Trust, integrity and knowledge of the market is our number one priority.
For more information on specific condominium sales activity contact Jeannie at 561-889-6734 or email her at [email protected]. See All Realtor listings on our website: www.WalkerRealEstateGroup.com.