2019 continues its sluggish performance with condo re-sale closings decreasing 19% and sales volume decreasing 23% compared to this time last year.
Let's take a closer look at the results in oceanfront condominium re-sales for the first seven months of 2019 on Singer Island: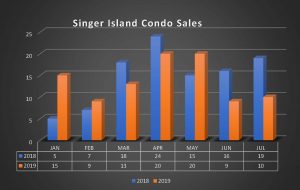 There have been 96 condo re-sales on Singer Island through July 2019.  The sold prices averaged 93% of list price.
Year-to-date 56% of the condo re-sales were under $500K, with 17% being in the $1 million plus range.
There were no short sales in July; as well as, none year-to-date.
The highest re-sale in July was Ritz Carlton Residence 903B for $1,550,000; and the least expensive sale was Cote D'Azur 2-1703 at $340,000.
As of the end of July, condo inventory remains steady at 143 units.
Price per square foot of the older condos (built 1969-1989) remains steady at $330; and the price per square foot of the newer condos (built 2003-2008) also remains steady at $696 through July 2019.
International Buyers – Where Did They Go? 
Following historical trends, Florida has been at the epicenter of foreign investment, attracting 20% of all foreign buyers in U.S.  "Many Canadians and other foreigners found Florida so enticing because of its lenient tax laws," said Lawrence Yen, NAR chief economist.  California followed Florida, accounting for 12% of international purchases.  The third most popular destination among international buyers was Texas (10%), particularly desirable among Indian and Mexican buyers.
According to the national Association of Realtors, a decline in global growth and low housing inventory contributed to a steep drop in foreign investment in U.S. residential real estate over the past year.
The National Association of Realtors reports that foreign buyers purchased fewer U.S. existing homes from April 2018 through March 2019.  Global economic growth slowed to 3.6% in 2018 and is on pace to taper to 3.3% in 2019.
"A confluence of many factors – slower economic growth abroad, tighter capital controls in China, a stronger U.S. dollar and a low inventory of homes for sale – contributed to the pullback of foreign buyers," said Yen.  "However, the magnitude of the decline is quite striking, implying less confidence in owning a property in the U.S."
For the seventh year, China exceeded all other countries in terms of dollar volume of purchases, buying an estimated $13.4 billion worth of residential property, a 56% decline from the previous 12 months.  Following China, the next top foreign buyer for 2019 was Canada at $8.0 billion.  The third top international buyer was India at $6.9 billion.
"Even though numbers were lower this year than during the previous 12 months, international investors and buyers still spent and invested a great deal of money in U.S. real estate," said NAR President John Smaby.
Our Market Update provides detailed information regarding condos newly listed, pending and sold on Singer Island for the current month.
Enjoy this information prepared just for you!
CALL us today if you are thinking about selling or buying! Your referral is our best compliment!
The Walker Real Estate Group, as the #1 Luxury Sales Team on Singer Island, believes that providing our customers a true concierge experience has been a major factor in our success.  Trust, integrity and knowledge of the market is our number one priority.
For more information on specific condominium sales activity contact Jeannie at 561-889-6734 or email her at [email protected]. See All Realtor listings on our website: www.WalkerRealEstateGroup.com.