2018 continues to show improvement over the last two years with condo re-sale closings increasing 20% and sales volume increasing over 41% compared to this time last year.  In addition to these positive results, Vista Blue is complete and has closed 59% of its units.
Let's take a closer look at the results in oceanfront condominium re-sales for the first seven months of 2018 on Singer Island: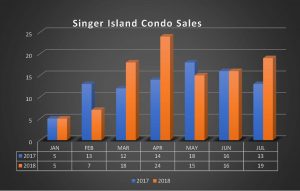 There have been 118 condo re-sales on Singer Island through July 2018.  The sold prices averaged 92% of list price.
Year-to-date 49% of the condo re-sales were under $500K, with 21% being in the $1 million plus range.
There were no short sales in July; as well as, none year-to-date.
The highest re-sale in July was Ritz Carlton Residence 402A for $2,850,000 (a Walker Real Estate Group listing); and the least expensive sale was The Resort/Marriott 416 at $200,000.
As of the end of July, condo inventory has decreased to 145 units.
Price per square foot of the older condos (built 1969-1989) remains steady at $317; and the price per square foot of the newer condos (built 2003-2008) also remains steady at $615 through July 2018.
Singer Island Beach – Public vs Private

Accessibility to Singer Island beaches is becoming a hot topic since a new statute went into effect July 1st.  The statute says local governments must get a judge's approval to enforce a rare "customary use" law that refers to the general right of the public to use dry sand areas in Florida for recreation.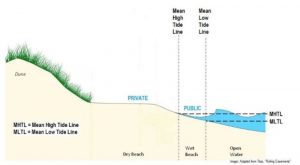 Owners of private beaches are entitled to the sand on the landward side of the mean high tide line, while the public maintains access seaward of the mean high tide line.
Sen. Kathleen Passidomo, R-Naples, who sponsored the Senate version of the bill, said it simply spells out a process for municipalities to follow to keep beaches open to the public rather than making up their own rules when a private beach owner wants to restrict access.
But the law has caused widespread confusion and angst, forcing Gov. Rick Scott to issue an executive order urging state attorneys "to protect Floridians' constitutional rights to beach access" and doing one thing opponents feared most — emboldening private beach owners to cut off the public.
Several properties on Singer Island have already designated their beachfront as private; among those are The Ritz Carlton Residences, The Resort/Marriott and Oceantree Condominium.  Although there is a deeded right-of-way next to The Resort/Marriott for the people to access the beach, the beach itself is reserved for Marriott guests only.  Marriott management will not stop people from walking through the Marriott's beach to get to the public Ocean Reef Park north of the Marriott, but they are not allowed to stay.
On wide beaches the public use is typically not a problem, as there's plenty of room for everyone and people aren't sitting right up against a private owner's home. But on beaches that aren't regularly re-nourished, or where there are many public access points with parking that offers an easy path to private beaches, it's become a concern, Passidomo said.
"This law is a process law that gives local governments the tools they need to expand public beach access where, before, it was the wild west, where lawsuits were flying," Passidomo said. "If the public wants to access a private beach, they can do so, as long as the court approves it."  There is little doubt that is where this issue is headed.
Our Market Update provides detailed information regarding condos newly listed, pending and sold on Singer Island for the current month.
Enjoy this information prepared just for you!
CALL us today if you are thinking about selling or buying! Your referral is our best compliment!
We are hopeful for another banner year for the Walker Real Estate Group. As the #1 Sales Team on Singer Island, providing our customers a true concierge experience has been a major factor in our success. Trust, integrity and knowledge of the market is our number one priority.
For more information on specific condominium sales activity contact Jeannie at 561-889-6734 or email her at [email protected]. See All Realtor listings on our website: www.WalkerRealEstateGroup.com.