Welcome 2017!  With 2016 behind us, being such an unusual year; we look forward to renewed real estate active in the coming months.  The northern winter has been mild so far this year; we will see what effect Punxsutawney Phil seeing his shadow has on the remainder of this Winter.  Season is in full swing at the Palm Beaches with crowed stores, restaurants and parking lots.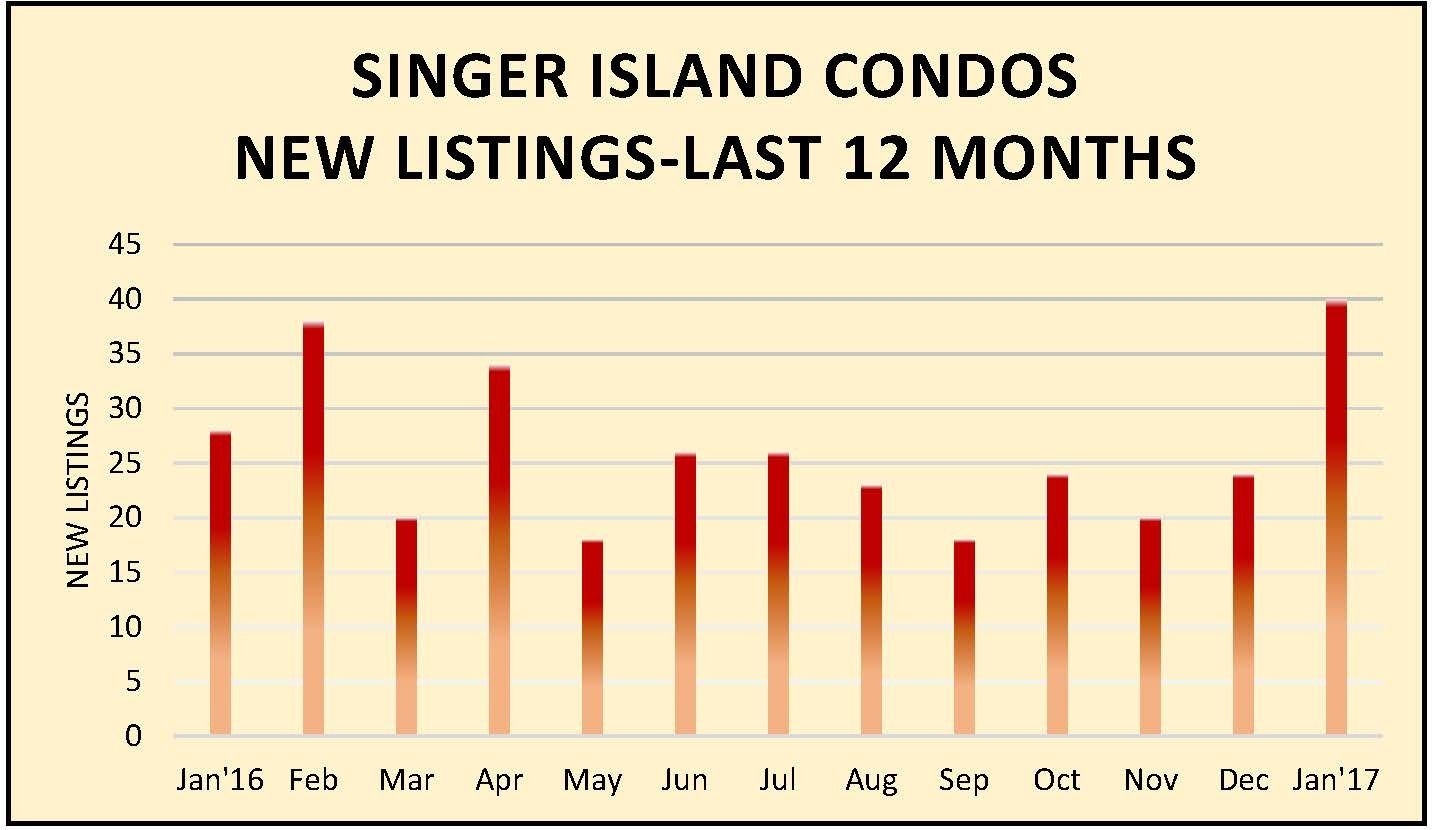 Real estate on Singer Island is off to a slow start with only three condo re-sales in January.  One positive note is that the 40 new condo listings for January nearly doubled from last year.
Let's take a closer look at the results in condominium re-sales after the first month of 2017 on Singer Island:
There were only 3 condo re-sales on Singer Island in January 2017.  The sold prices averaged 95% of list price.
Only one re-sale in January was above $500K – Water Glades-200 16C sold for $655,000.
The average Days-on-Market (DOM) for the older condos through the last 12 months stood at 132 (approx. 4 months of inventory); and the newer condos stood at 175 days (6 months) on market.
There were no short sales in in the past 12 months.
The highest re-sale in January was Water Glades-200 16C for $655,000.
As of the end of January, condo inventory stood at 185 units; a 6% decrease from January 2016.
Price per square foot of the older condos (built 1969-1989) stands at $294; and the price per square foot of the newer condos (built 2003-2008) at $524, the relative average for the last 12 months.
Four Reasons Luxury Real Estate Should Flourish In 2017
2017 will bring its share of exciting developments, innovative design, progressive trends and brand new technology to the luxury real estate market.  There is never a standstill in this upscale industry. Here are four reasons why it should flourish.
New Mortgages.  During 2017, it will be easier for buyers to finance their luxury real estate purchases.  Beginning this year, government-owned mortgage companies Fannie Mae and Freddie Mac will provide backing for larger mortgages for the first time in more than 10 years.
Foreign Buyers.  International buyers still want U.S. luxury property, and they are expanding their horizons.  Foreign purchasers continue to seek out luxury real estate across the nation.
International buyers are going far beyond their own borders to find safe investments. Like any home-buyer, they look for affordable prices and the best return, including long-term growth opportunities.
Foreign purchasers crave the luxurious lifestyle and ultimate security that come with a high-end home in an affluent neighborhood.
This wealthy group is not expected to lose interest in U.S. luxury real estate anytime in the foreseeable future. Both Europe and the U.S. will continue to attract increasing amounts of foreign capital, especially from Asian buyers.
Historical Growth.  During the next 12 months, the ultra-luxury market should see more affordable prices. Keep in mind that consistent and steady growth is a good thing. Indeed, this circumstance follows frequently behind periods of high asking prices and decreasing absorption numbers.
Post-election Period.  Following all the preoccupation and distractions that emerge during any election period, things return to a more leisurely pace after a campaign and its results.  The post-period becomes a time of restoration for the campaign-weary when one's thoughts turn closer to home. A final resolution can restore certainty to a sector, and uncertainty can be replaced with new development.  In addition, more development is expected in the lower end of the luxury market. Of course, waterfront real estate enjoys consistent popularity, but now non-beachside mansions are equally attracting the eye of the luxury buyer.
We will see how well this holds true as the year progresses.
Our Market Update provides detailed information regarding condos newly listed, pending and sold on Singer Island for the current month.
Enjoy this information prepared just for you!
CALL us today if you are thinking about selling or buying! Your referral is our best compliment!
2017 has all the indications of being an active year for the Walker Real Estate Group; as the #1 Sales Team on Singer Island, our goal is to provide our customers a true concierge experience in all their real estate transactions.  Trust, integrity and knowledge of the market are our number one priority.
For more information on specific condominium sales activity contact Jeannie at 561-889-6734 or email her at [email protected]
For more information on specific condominium sales activity contact Jeannie at 561-889-6734 or email her at [email protected]. See All Realtor listings on our website: www.WalkerRealEstateGroup.com.