"We are thankful that Hurricane Dorian turned north just east of the Palm Beaches, sparing us from its damaging winds and rain.  Our thoughts and prayers go out to those in the Bahamas who have been affected by the devastation and hope for a speedy recovery."
With Labor Day signaling the official end to summer, we are looking forward to seeing the return of winter residents and guests for the upcoming season.  August and September tend to be the quiet months as children headed back to school.  We anxiously await the end to "hurricane season".  2019 condo re-sales on Singer Island continue to remain somewhat lackluster compared to this point in 2018. In August, there were only 7 re-sale closings with the highest re-sale only being $628K; plus 24 new listings.
Let's take a closer look at the results in oceanfront condominium re-sales through August 2019 on Singer Island: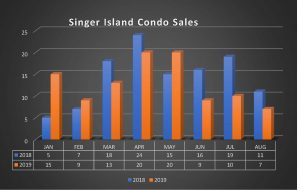 There have been 103 condo re-sales on Singer Island through August 2019; a 20% decrease from this time last year.  The sold prices averaged 93% of list price.
Year-to-date 59% of the condo re-sales were under $500K, with 16% being in the $1 million plus range.
There were no short sales in August; as well as, none year-to-date.
The highest re-sale in August was Tiara 16C for $628,000; and the least expensive sale was Dunes Towers B-8C at $325,000.
As of the end of August, condo inventory decreased to 138 units.
Price per square foot of the older condos (built 1969-1989) remained steady at $329; and the price per square foot of the newer condos (built 2003-2008) decreased slightly to $673 through August 2019.
Why People are Moving from New York to Florida – TAXES
Since the implementation of a $10,000 cap on state and local tax deductions, New Yorkers are heading to states with lower tax rates- specifically Florida.  Florida received more movers than any other state last year, at 566,4 76 people, according to data from the U.S. Census Bureau. New York's outflows to the Sunshine State were the highest-63,772 people. New York had the third-largest outflows of any state, with 452,580 people moving out within the past year.
It's all about taxes!  Let's look and compare the difference between New York and Florida:
Income Tax
The state tax rates in New York ranges from 4 percent to 8.82 percent.  Florida has no state income tax.
Real Estate Property Tax
The effective real estate property tax rate in Florida is 0.98 percent, according to data from WalletHub.  That compares with 1.68 percent in New York.  Therefore, a Florida resident paying real estate property taxes on a $194,000 home would owe $1,897. A person in New York with a home valued at the same amount would owe $3,246.
Estate Tax (Death Tax)
New York has an estate tax that ranges from 3.06 percent to 16 percent. The exclusion amount is $5.74 million.  Florida has no estate tax of its own, meaning assets are only subject to the federal tax.
Sales Tax
Both Florida and New York come out fairly even until one takes into account the local sales tax rates in New York; i.e., New York City.
No wonder we are seeing such a move.
Our Market Update provides detailed information regarding condos newly listed, pending and sold on Singer Island for the current month.
Enjoy this information prepared just for you!
CALL us today if you are thinking about selling or buying! Your referral is our best compliment!
The Walker Real Estate Group, as the #1 Luxury Sales Team on Singer Island, believes that providing our customers a true concierge experience has been a major factor in our success. Trust, integrity and knowledge of the market is our number one priority.
For more information on specific condominium sales activity contact Jeannie at 561-889-6734 or email her at [email protected]ealEstateGroup.com. See All Realtor listings on our website: www.WalkerRealEstateGroup.com.