With Labor Day behind us, we look forward to "Season and the return of our winter residents.  August has been a quiet month on Singer Island with only 11 re-sales, none of which were over $1 million and only 4 sales over $500K.  Year-to-date Singer Island re-sales are 12% greater than the same time last year.  The completion of Vista Blue and closing of 37 units has had a major impact on the $1 million + re-sales on Singer Island in 2018.
Let's take a closer look at the results in oceanfront condominium re-sales for the first eight months of 2018 on Singer Island: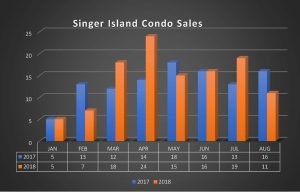 There have been 129 condo re-sales on Singer Island through August 2018.  The sold prices averaged 92% of list price.
Year-to-date 50% of the condo re-sales were under $500K, with 19% being in the $1 million plus range.
There were no short sales in August; as well as, none year-to-date.
The highest re-sale in August was Eastpointe II 17i for $887,500; and the least expensive sale was Phoenix Towers A-2B at $262,000.
As of the end of August, condo inventory has remained relatively steady at 141 units.
Price per square foot of the older condos (built 1969-1989) remains steady at $315; and the price per square foot of the newer condos (built 2003-2008) also remains steady at $615 through August 2018.
Mortgage Rates on the Rise Again
The one-two punch of strong job and consumer credit growth drove mortgage rates up for the third straight week, to their highest mark since August 2.
The average 30-year fixed-rate mortgage was at 4.6 percent this week, while the 15-year hit 4.06 percent. The 5/1 adjustable-rate mortgage was 3.93 percent.
Mortgage rates are currently 0.82 percent higher than a year ago, which is the biggest year-over-year increase since May 2014. Looking ahead, annualized comparisons for mortgage applications may look weaker than they appear, but that's primarily because of the large spread between mortgage rates now and last September, which was when they reached their low for the year.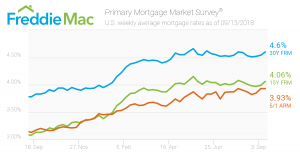 Overall, this spectacular stretch of solid job gains and low unemployment should help keep homebuyer interest elevated. However, mortgage rates will likely also move up, as the Federal Reserve considers short-term rate hikes this month and at future meetings.
It has been almost ten years since the 30-year average fixed mortgage rate dropped below 5% and has hovered in the 4 percent range through today, a historic low period.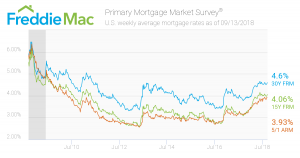 One must go back to October 30, 1981 to remember the historic high 30Y FMR of 18.44%.  Although the rate has trended downward since then, a bottom may have been reached on May 2, 2013 when the 30Y FRM reached 3.35%.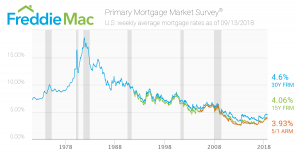 Current 30Y FMR projections place the rate above 5% by mid-2019 and hitting 6% by late 2021.  Only time will tell.


Our Market Update provides detailed information regarding condos newly listed, pending and sold on Singer Island for the current month.
Enjoy this information prepared just for you!
CALL us today if you are thinking about selling or buying! Your referral is our best compliment!
We are hopeful for another banner year for the Walker Real Estate Group. As the #1 Sales Team on Singer Island, providing our customers a true concierge experience has been a major factor in our success. Trust, integrity and knowledge of the market is our number one priority.
For more information on specific condominium sales activity contact Jeannie at 561-889-6734 or email her at [email protected]. See All Realtor listings on our website: www.WalkerRealEstateGroup.com.