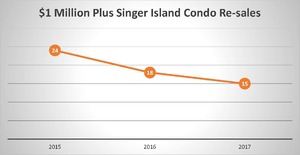 With Labor Day signaling the official end to summer, we are looking forward to seeing the return of winter residents and guests for the upcoming season.  August and September tend to be the quiet months as children headed back to school.  We anxiously await the end to "hurricane season"; and hopefully not too much damage from Irma currently headed our way.  2017 condo sales continue to remain somewhat lackluster compared to the robust actively from 2015. In August, there were 16 re-sale closings with only two condos over $1 million; plus 26 new listings.
Let's take a closer look at the results in oceanfront condominium re-sales through August 2017 on Singer Island:
There have been 115 condo re-sales on Singer Island through August 2017; a 12% decrease from this time last year; and a 17% decrease from August 2015.  The sold prices averaged 93.5% of list price.
Year-to-date 44% of the condo re-sales were under $500K, with 13% being in the $1 million plus range.
There were no short sales in August; and only one year-to-date.
The highest re-sale in August was Oasis Singer Island 12A for $2,200,000 (a Walker Real Estate sale); and the least expensive sale was The Resort-Marriott 417 at $231,000.
As of the end of August, condo inventory decreased to 174 units; but still 8% higher than August 2015.
Price per square foot of the older condos (built 1969-1989) remained steady at $291; and the price per square foot of the newer condos (built 2003-2008) decreased to $540 through August 2016.
New Construction on Singer Island
While the luxury condo re-sale market has lagged on Singer Island, the new condo buildings have taken up the slack.  One can see from past sales on Singer Island, there are only so many high-end sales with most going to new development.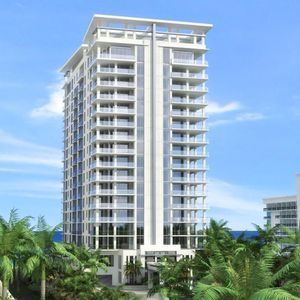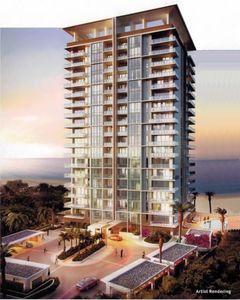 Vista Blue, the new 19-story, 58-unit building next to The Resort-Marriott is due to be completed by the start of 2018.  They have 25 units under contract including an $8 Million penthouse.  Starting price for this property is $1.6M.
Right behind Vista Blue is Kolter's new project 5000 North Ocean.  This 19-story luxury high-rise has a starting price of $2M and has 7 units under contract.
Interest Rates Remain at Historic Lows
Long-term U.S. mortgage rates fell again last week. It was the fifth straight weekly decline for the benchmark 30-year rate, which again reached a new low for the year.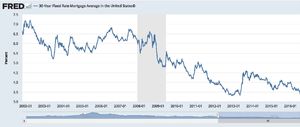 Mortgage buyer Freddie Mac says the rate on 30-year, fixed-rate mortgages fell to 3.82 percent from 3.86 percent last week. A year ago, the rate stood at 3.46 percent. It averaged 3.65 percent for all last year.  The rate on 15-year, fixed-rate home loans dipped to 3.12 percent from 3.16 percent last week. Those loans are popular with homeowners refinancing their mortgages.
As the chart indicates, the 30-year average has not topped 5% since the spring of 2011 and been well below that for the past few years.  This low rate has precipitated a lot of refinancing and new home mortgages.  The long term forecast is for  the 30-year fixed rate to remain below 5% through 2019 and into the 5%-6% by 2020.
Our Market Update provides detailed information regarding condos newly listed, pending and sold on Singer Island for the current month.
Enjoy this information prepared just for you!
CALL us today if you are thinking about selling or buying! Your referral is our best compliment!
2017 has all the indications of being an active year for the Walker Real Estate Group; as the #1 Sales Team on Singer Island, our goal is to provide our customers a true concierge experience in all their real estate transactions. Trust, integrity and knowledge of the market are our number one priority.
For more information on specific condominium sales activity contact Jeannie at 561-889-6734 or email her at [email protected].
See All Realtor listings on our website: www.WalkerRealEstateGroup.com.