With Labor Day signaling the official end to summer, we are hopeful that the upcoming season will bring renewed interest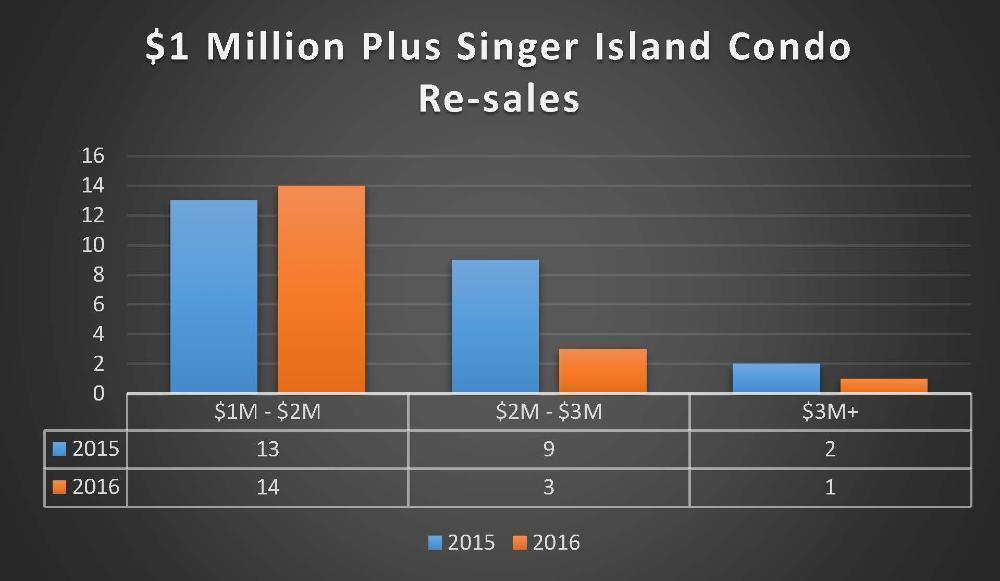 in the Singer Island real estate market.  August and September tend to be the quite months and time to prepare for the upcoming Season. The 2016 condo sales continue to lag the corresponding actively from 2015. In August there were 18 re-sale closings with only three condos over $1 million; plus 23 new listings.  The $1 million plus condo market on Singer Island has been impacted the most.  There has been a 25% decrease in re-sales compared to this time in 2015.  Most notable has been condos sold over $2 million where the decrease has been 64% (4 sales in 2016 vs. 11 sales in 2015).
Let's take a closer look at the results in oceanfront condominium re-sales through August 2016 on Singer Island:
There have been 131 condo re-sales on Singer Island through August 2016; a 6% decrease from this time last year.  The sold prices averaged 93% of list price.
Year-to-date 60% of the condo re-sales were under $500K, with 13% being in the $1 million plus range.
There were no short sales in August; as well as, none year-to-date.
The highest re-sale in August was The Resort at Singer Island 853 for $1,700,000; and the least expensive sale was Connemara 204 at $215,000.
As of the end of August, condo inventory increased slightly to 174 units; but still 8% higher than August 2015.
Price per square foot of the older condos (built 1969-1989) remained steady at $291; and the price per square foot of the newer condos (built 2003-2008) decreased to $540 through August 2016.
August Sees Another Drop in Florida Consumer Confidence
Consumer sentiment among Floridians fell 4.8 points in August to 88.2, according to the latest University of Florida (UF) consumer survey – the lowest reading in the last year. All five components that make up the index declined.  Floridians' perceptions of their personal finances fell both now and for the future.  All Floridians had lower expectations with one exception: People aged 60 and over, whose readings showed little change.
"Most of the pessimism in August stems from the perceptions of personal finance … these two components account for more than three-quarters of the change in the index," said Hector H. Sandoval, director of the Economic Analysis Program at UF's Bureau of Economic and Business Research (BEBR).
"Despite the positive economic signals, consumer sentiment among Floridians seems to remain gloomy," Sandoval says. "Except for July's reading, consumer sentiment has followed a slightly downward trajectory over the last six months."  Sandoval says that the state's job market may be having an influence.
"Although the number of jobs added statewide has remained positive for an outstanding 72 consecutive months, the unemployment levels haven't decreased for the past three months, suggesting that the labor market has reached its 'natural' unemployment level," Sandoval says. "It's possible that economic agents are expecting a downturn in the economic activity in the medium-run, which is reflected in the latest trends of the consumer sentiment index."
Some of the biggest drops in August were among those with incomes of $50,000 and over. This may be partially due to concerns over decisions regarding retirement savings like IRAs and 401Ks, and whether to move money out of the stock market over predictions of an upcoming correction after seven years of record increases.
"We should keep in mind that consumer sentiment is in part designed to predict consumer spending," says Chris McCarty, BEBR director. "Like much of the rest of the country, retail sales in Florida have been boosted by auto sales which are supported by historically low interest rates. Taking auto sales out of the picture, consumer demand for goods and services has been tepid and inflation well below the target rate of 2 percent. This is one of the indicators that raises questions for Federal Reserve Board members when they consider whether to raise interest rates in their September meeting."
Our Market Update provides detailed information regarding condos newly listed, pending and sold on Singer Island for the current month.
Enjoy this information prepared just for you!
CALL us today if you are thinking about selling or buying; we offer a free confidential analysis. Your referral is our best compliment!
We are hopeful for another good year for the Walker Real Estate Group. As the #1 Sales Team on Singer Island, providing our customers a true concierge experience has been a major factor in our success. Trust, integrity and knowledge of the market is our number one priority.
For more information on specific condominium sales activity contact Jeannie at 561-889-6734 or email her at [email protected]. See All Realtor listings on our website: www.WalkerRealEstateGroup.com.