The condo re-sales on Singer Island are seeing a resurgence as we move further into 2018.  April saw 24 condo sales, compared to last April at 14, a 71% increase.  Year-to-date re-sales were up 17% over last April and the volume of these sales increased 28% to $39 million.
Let's take a closer look at the results in oceanfront condominium re-sales for the first four month of 2018 on Singer Island: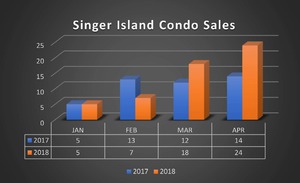 There have been 54 condo re-sales on Singer Island through April 2018.  The sold prices averaged 91% of list price.
Year-to-date 52% of the condo re-sales were under $500K, with only 15% being in the $1 million plus range.
The average Days-on-Market (DOM) for the condos through April stood at 96 (approx. 3.2 months) for lower priced condos.
There were no short sales in April; as well as, none year-to-date.
The highest re-sale in April was the Ritz Carlton Residences 401A/501A for $3,550,000; a Walker Real Estate Group listing and sale.
As of the end of April, condo inventory was holding steady at 170 units.
Price per square foot of the older condos (built 1969-1989) saw a modest increase to $325; and the price per square foot of the newer condos (built 2003-2008) saw a 7% decreased to $586 through April 2018.
Our Market Update provides detailed information regarding condos newly listed, pending and sold on Singer Island for the current month.
Recent Tax Reform has an Impact on Florida Real Estate
Last year's federal tax overhaul could give Florida luxury real estate sales a boost.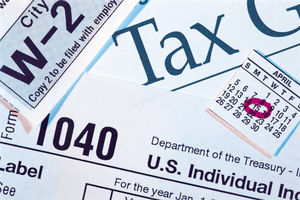 The new statue that caps "SALT" or state and local tax deductions at $10,000 is the primary driving force behind the boost; prior to the tax law change, those deductions were unlimited.  The deductions include real estate, and either income taxes or sales taxes. For wealthy people who itemize deductions, income taxes alone exceed that amount, let alone property and sales taxes. If they also live in a relatively high tax state such as New York or New Jersey, that could make officially declaring Florida their "home" a more attractive proposition because it has no state income tax.
Since last December, real estate agents, certified public accountants and other industry profession have seen a flurry of interest from wealthy clients in higher-tax states who are looking at buying homes in South Florida and declaring the state their official domicile.
The $10,000 cap does not go very far for those with high income.  As an example, New York has a maximum 8.82 percent state income tax, so tax on any income over $120,000 has already exceeded the $10,000 cap; and this does not even take into account real estate taxes.
Along with its sunshine and coastlines, Florida has long been sold as a tax-friendly state. The cap on SALT deductions could be a tipping point that pushes some high-income residents in other areas of the country to look at calling Florida "home." But to take advantage of the Sunshine State's lower taxes they would have to disconnect from their current home state, which isn't always easy.
The Sunshine State may be happy to have you pay taxes here without much trouble. A new Florida driver's license, electing a homestead exemption on a home, registering to vote, and changing your mailing address are among a simple checklist of to-do's.
It's the taxing state that has to be satisfied that separation has been made, with each having their own separate requirements.  New York, for example, generally will claim you as its resident if you have a home there and spend 183 days or more in the state per year. It may also look at credit card statements, the clubs you belong to, where your kids go to school, where your business is located, and other considerations.
Taxing states do not want to give up their revenue base and will audit an individual if they believe there has been fraud; such as, New York requiring a man to come up with the number of cell phone tower pings from his phone to prove he was no longer living there.
There has even been an app developed to help; if you have homes in two states, an app called TaxBird will track your whereabouts and give you alerts when you are nearing your state "residency threshold."
People that had been thinking about moving to Florida in the next three to five years are re-examining their plans. Now with the current tax changes they are thinking about leaving their northern property sooner, rather than later.
With the new tax law less than six months old, it may still be too early to realize its full impact on Florida real estate; but all signs point to increased activity as a result.
The Walker Real Estate Group keeps an eye on the pulse of the market and informs its customers of the trends so they can make better decisions whether it's buying, selling or just renting their Singer Island property. We are the Number One source for "What's Happening" on the Island!
We are heading towards a banner year for the Walker Real Estate Group; as the #1 Sales Team on Singer Island.   Providing our customers a true concierge experience has been a major factor in our success. Trust, integrity and knowledge of the market is our number one priority.
Call US today for a free confidential interview!
For more information on specific condominium sales activity contact Jeannie at 561-889-6734 or email her at [email protected].
See All Realtor listings on our website: www.WalkerRealEstateGroup.com.