"Keeping your finger on the pulse of the market is critical when looking to buy or sell your home." The Walker Real Estate Group brings their customer base "Just the Facts" enabling them to make knowledgeable decisions with regard to the real estate world around us…"
Now that 2016 is behind us, we anxiously look forward to 2017 with many indicators pointing to an active and prosperous year.  But before doing so, let's look at the year that just ended.  For the upper end condo market, which we define as $1 million plus sales; it was a rough year.  Unit sales were off almost 50% (20 sales vs 37 sales) and sales volume was cut in half, as well ($41M vs $73M).  There were four months in 2016 without a $1Million plus sale, primarily towards the end of the year.  We surmise the most likely contributors to this issue being the unprecedented presidential election year and international uncertainty that held many buyers on the sidelines.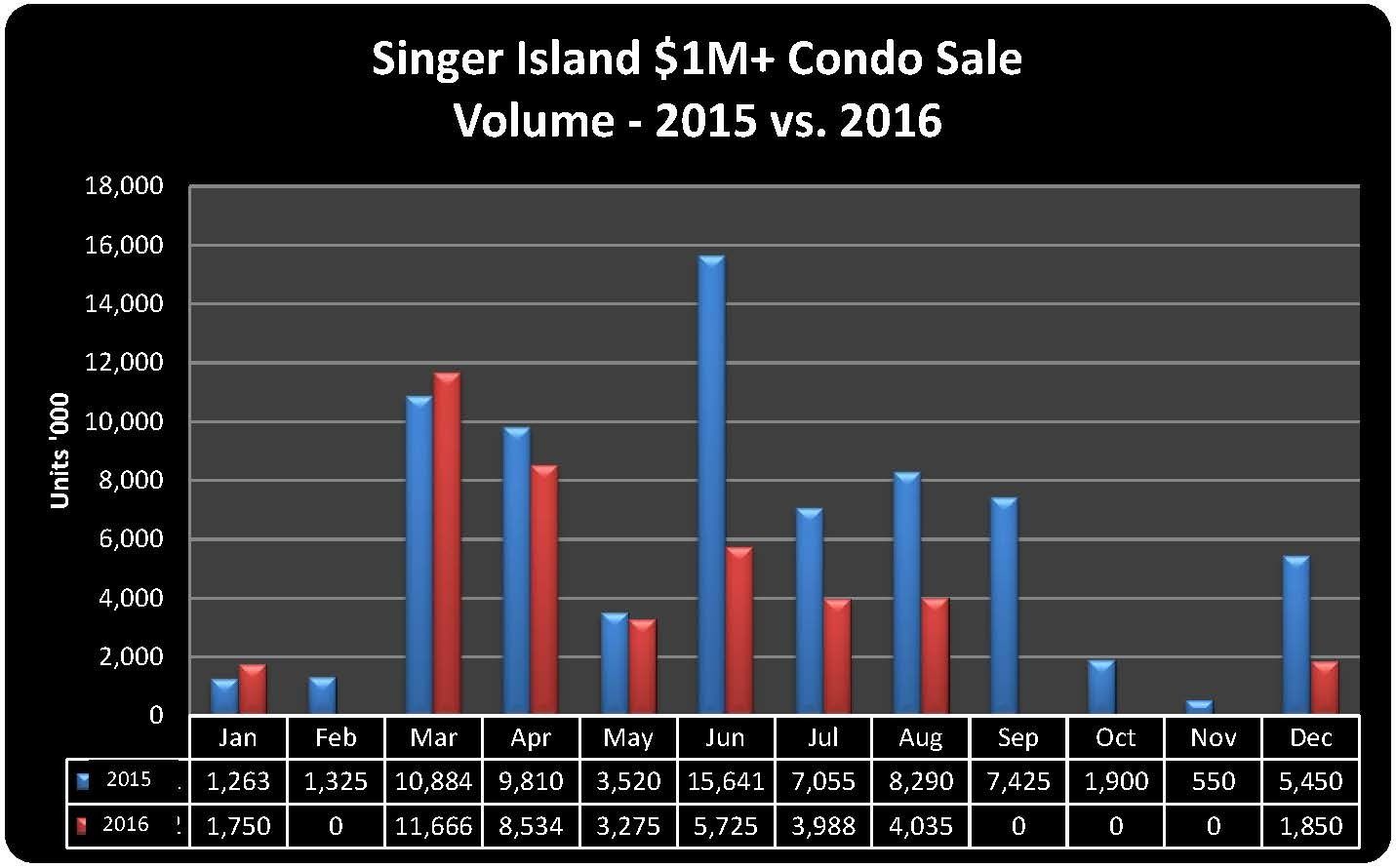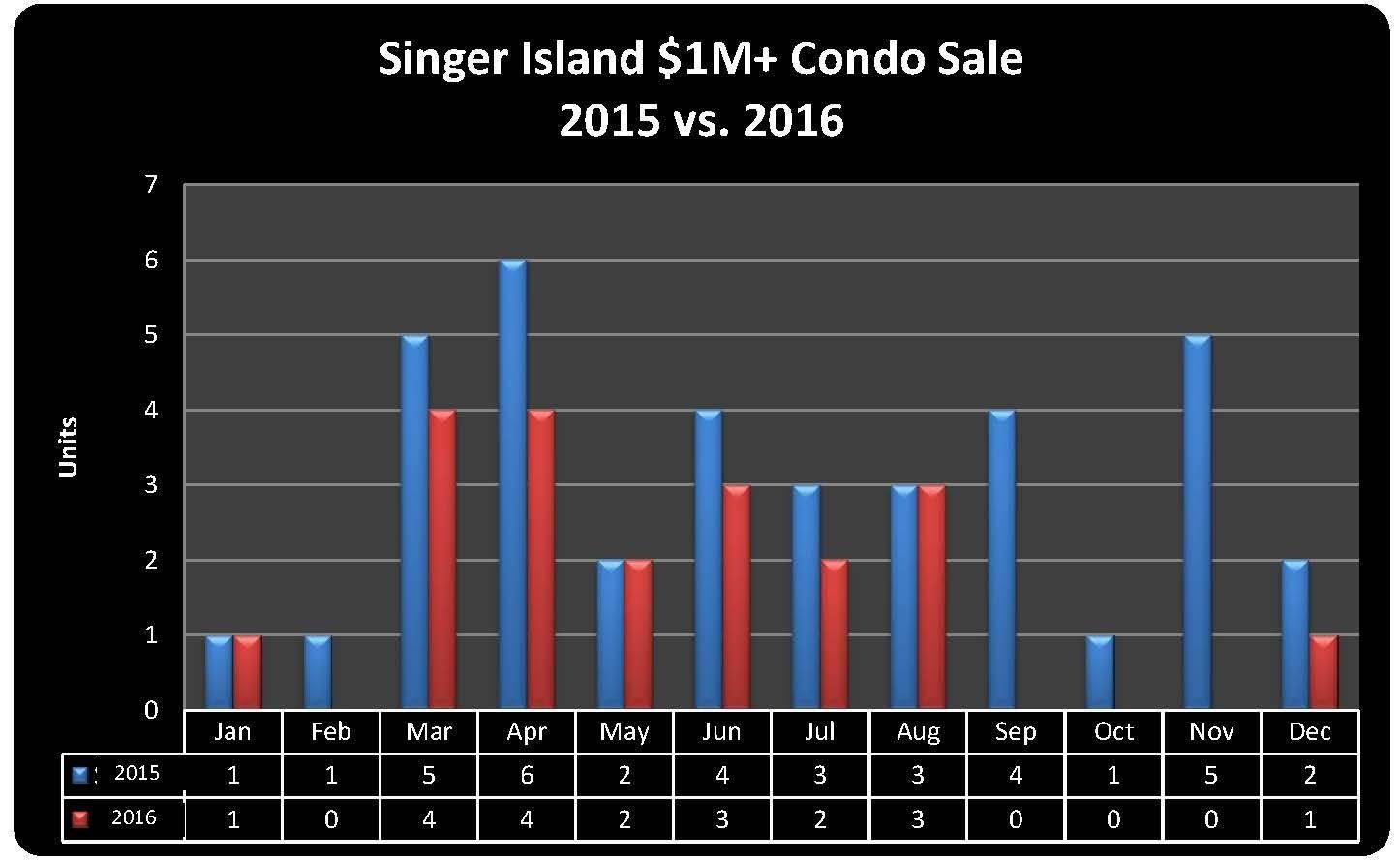 There were 191 condominium re-sales on Singer Island in 2016, relatively unchanged from 2015 (199), although the sales volume dropped by 25%.
Looking back on 2016, let's recap the year in condominium re-sales on Singer Island and the comparison with 2015:
Sixty percent of the re-sales (116) were below $500K; in 2015, 52% of the re-sales (104) were below $500K.
Ten percent of the re-sales were over $1million as compared to 2015 which saw 19%.
The average Days-on-Market (DOM) for 2016 sales is down to 139 (approximately 4½ months); this is an 12% decrease from the 2015 level of 158 days.
The highest re-sale for 2016 was Ritz 2402A at $3,550,000.
There were zero short sales in 2016 compared to 6 in 2015.
Condo inventory ended the year at 170 units; down from 186 the same time in 2015, a 9% decrease.
Price per square foot of the older condos (built 1969-1989) ended the year at $295; and the price per square foot of the newer condos (built 2003-2008) finished at $569.  As a comparison, 2015 ended with the older condos selling at $278 per square foot and the newer condos at $588 per square foot.
CLICK HERE: Singer Island 4th Quarter 2016 Market Update
CLICK HERE: Singer Island December 2016 Market Update
2017 – The Housing Market in a Trump Presidency
2017 can be summed up in one word – "Positive".  Most experts are optimistic about 2017. Lenders are using better technology to streamline the mortgage process, and the housing market is "healthy" and "robust," in their words.
"Builders are excited," says Robert Dietz, chief economist for the National Association of Home Builders . He says reductions in regulatory costs could help homebuilders provide housing to the tightest segment of the market, the entry-level buyer.
"If we do get an administration that's taking a look at various kinds of regulatory policies – where they've grown too large or too expensive – that will certainly help the supply side of the market. And I think that's good news, not just for builders, but it's good news for renters and prospective homebuyers because adding supply is the way that you address housing affordability issues."
Here are the items that may impact the coming year:
A 'responsibly aggressive' marketplace
A unified call for less government regulation is coming from the Trump camp as well as Republicans in Congress. On the deregulation radar: the Consumer Financial Protection Bureau (CFPB) and other elements of Dodd-Frank, the Wall Street reform act that President Obama signed into law in 2010.
Jeff Taylor is managing partner of Digital Risk, a mortgage processing company. He also says trimming Dodd-Frank would be a good thing for potential homeowners.  "If Dodd-Frank is streamlined, I think you could have banks be more responsibly aggressive in the marketplace, as far as making mortgages," he says. "And I think that will open up more product for first-time homebuyers … in the next couple of years."  Taylor says less stringent regulations on lenders might lower the costs of compliance and allow more small community banks to compete with big banks, "boosting bank profits – all of which are likely to increase credit availability."
Getting Fannie and Freddie 'out of government ownership'
Another item on the Republican agenda is to reduce the government footprint in the mortgage industry. That means moving Fannie Mae and Freddie Mac into the private sector.  The two government-sponsored companies back a majority of mortgages and were bailed out with taxpayer dollars during the housing crash. Fannie and Freddie buy home loans from lenders and then package and sell those loans in large bundles of bonds.
Homebuilders and a Trump economy
A lack of skilled labor has been one of the biggest constraints to the housing industry for the past couple of years, and Taylor worries that the Trump administration may not help matters in that regard. Labor shortages also contribute to rising wages for construction workers, which in turn keep new home prices high, he adds.
However, Robert Dietz, chief economist for the National Association of Home Builders, says he expects the Trump administration to take action on some labor rules that could benefit the homebuilding industry. That will almost certainly include the Obama overtime rule "that would've affected a lot of construction site managers," Dietz says.  He also is looking for a Trump administration to help lower building costs. "Just under 25 percent of the cost of a newly built home is due to regulatory burdens," he says. "I think it's reasonable that the new administration can address a lot of them."
How Trump might affect home affordability
Mortgage rates have soared since Trump won the election. That's part of a good news/bad news scenario.  Taylor also says home affordability could suffer but offers another factor in the equation. "On the positive side, [higher mortgage rates] could also slow price appreciation, which would help buyers. The housing market has lacked first-time buyers and move-up buyers. Slower price appreciation could benefit move-up buyers who have regained value in their home and want to move up before prices rise again," he says.  "I'll tell you, if I'm looking to buy a house for the first time or to sell my house and move into a different house, I really am looking at this next year as probably a moving year because rates still in the 4s are very, very attractive," Taylor adds.
Will Trump eliminate the mortgage interest deduction?
And then there's the most sacred cow of all: the mortgage interest deduction. It is frequently mentioned as an important factor in the "buy or rent?" conversation.  The Trump administration and Republicans have floated the idea of putting a cap on the amount of allowed interest that you could deduct from your tax bill.
The thing is, an analysis by the Tax Policy Center of the Urban Institute and Brookings Institution says only about one-fifth of households actually use the deduction. And of those that do, most are way above middle-class taxpayers.  "The Tax Policy Center finds that in 2017, Trump's cap would affect only about 160,000 singles, a tiny fraction of the 89 million single taxpayers, and about 230,000 couples out of 59 million joint filers," Howard Gleckman, senior fellow with the Tax Policy Center, writes on Forbes.com. "The vast majority of the taxpayers who would face the cap are high-income."
Homeownership rates under a Trump presidency
Rob Chrisman, a senior advisor for the Stratmor Group, a mortgage industry consultancy, is looking for little change in the rate of homeownership in the coming years. From a percentage perspective, homeownership in the U.S. reached its peak during the Clinton/Bush presidential terms, he says. But that's when banks relaxed underwriting guidelines to such an extent that "people who shouldn't have been buying houses were."
The housing crash changed everything. Underwriting, loan documentation and appraisal requirements have strengthened since then. "Marginal borrowers are not borrowing money, and investors feel more secure with investing in mortgage-backed securities," Chrisman says.  He says that America's need for housing is just as great as ever and that Trump's policies won't move the dial on homeownership rates one way or the other.  "Internal population growth hasn't stopped, nor has immigration. Nor has the desire for a new generation to want a home for their children," he says. "I think that from what we know so far, the Trump presidency will have little or no direct impact on homeownership rates."
The Walker Real Estate Group keeps an eye on the pulse of the market and informs its customers of the trends so they can make better decisions whether it's buying, selling or just renting their Singer Island property. We are the Number One source for "What's Happening" on the Island!
The Walker Real Estate Group; as the #1 Sales Team on Singer Island providing our customers a true concierge experience.  Trust, integrity and knowledge of the market is our number one priority.
Call US today for a free confidential interview!
For more information on specific condominium sales activity contact Jeannie at 561-889-6734 or email her at [email protected].