"We are so grateful and relieved that Hurricane Matthew took a jog to the east and remained off the coast of the Palm Beaches.   Our thoughts and prayers go out to those in other areas of Florida and the East Coast who have been affected by the devastation, and hope for a speedy recovery."
Here we are nine months into 2016; although the temperatures have not yet started to cool, the car carriers are arriving daily. The year has seen a dramatic slowdown in sales activity compared to 2015. There were 149 condominium re-sales on Singer Island in the 1st nine months of 2016, a 5 percent decrease in the number of transactions as the same period in 2015; but more alarming is the 33% decrease in sales dollar volume. It is worth noting that only 12% of the re-sales were $1million plus with just 2.7% over $2 million.
Let's recap the 1st nine months of the year in condominium re-sales on Singer Island and the comparison with 2015:
Approximately sixty percent of the sales (90) were below $500K; in 2015, 48% of the sales were below $500K.
The average Days-on-Market (DOM) for these sales has declined to 144 (approximately 4.8 months) compared to 168 days for this period last year.
The highest re-sale this quarter was Ocean's Edge 1401 at $2,612,500; a Walker Real Estate Group exclusive listing.
There were no short sales in the 3rd quarter.
Condo inventory ended the quarter at 156 units.
Price per square foot of the older condos (built 1969-1989) ended the quarter at $291, a 4% increase over the same period in 2015. The price per square foot of the newer condos (built 2003-2008) finished at $538, a 13% decrease compared to the 3rd quarter of 2015.
CLICK HERE: Singer Island 3rd Quarter 2016 Market Update
CLICK HERE: Singer Island September 2016 Market Update
Florida Ranks 4th as Business Friendly State
Each year the nonpartisan Tax Foundation measures how well-structured each state's tax code is by analyzing more than 100 variables in five tax categories: corporate, individual income, sales, property and unemployment insurance and releases its State Business Tax Climate Index. Overall, Florida ranked fourth just behind Wyoming, South Dakota and Alaska; and once again New Jersey was ranked last just beating out New York, California and Washington, DC.
States are penalized for overly complex, burdensome and economically harmful tax codes, and rewarded for transparent and neutral tax codes that do not distort business decisions. A state's ranking can rise or fall in rank because of its own actions or actions taken by other states.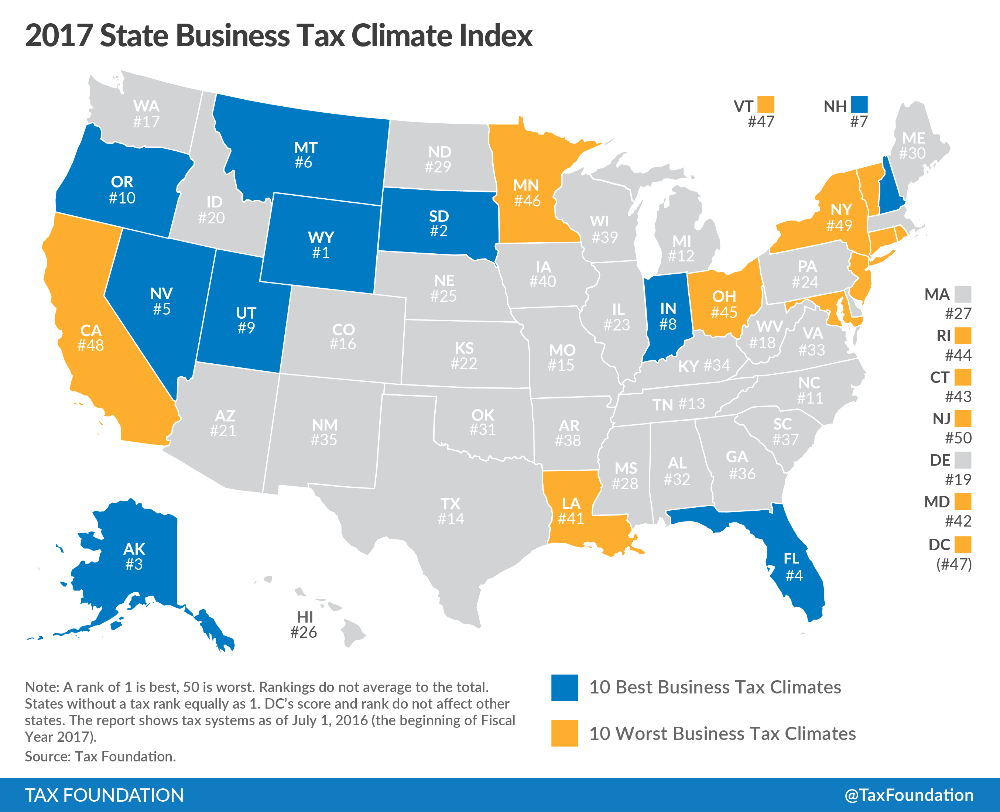 The Tax Foundation's State Business Tax Climate Index enables business leaders, government policymakers, and taxpayers to gauge how their states' tax systems compare. While there are many ways to show how much is collected in taxes by state governments, the Index is designed to show how well states structure their tax systems, and provides a roadmap for improvement.
The absence of a major tax is a common factor among many of the top ten states. Property taxes and unemployment insurance taxes are levied in every state, but there are several states that do without one or more of the major taxes: the corporate income tax, the individual income tax, or the sales tax. Wyoming and South Dakota have no corporate or individual income tax; Alaska has no individual income or state-level sales tax; Florida has no individual income tax.
Conversely, the states at the bottom tend to have a number of shortcomings in common: complex, non-neutral taxes with comparatively high rates. New Jersey, for example, is hampered by some of the highest property tax burdens in the country, is one of just two states to levy both an inheritance tax and an estate tax, and maintains some of the worst-structured individual income taxes in the country.
Once again, another good reason to make Florida home for both business and pleasure.
The Walker Real Estate Group keeps an eye on the pulse of the market and informs its customers of the trends so they can make better decisions whether it's buying, selling or just renting their Singer Island property. We are the Number One source for "What's Happening" on the Island!
We are hopeful for another good year for the Walker Real Estate Group; as the #1 Sales Team on Singer Island.   Providing our customers a true concierge experience has been a major factor in our success. Trust, integrity and knowledge of the market is our number one priority.
Call US today for a free confidential interview!
For more information on specific condominium sales activity contact Jeannie at 561-889-6734 or email her at [email protected].