"Keeping your finger on the pulse of the market is critical when looking to buy or sell your home." The Walker Real Estate Group brings their customer base "Just the Facts" enabling them to make knowledgeable decisions with regard to the real estate world around us…"
Here we are 6 months and 3 named storms into 2018.  The real estate condo market on Singer Island is having a much better time this year then we saw in 2017.  There were 98 condominium re-sales on Singer Island in 1st six months of 2018; that is a 17 percent increase in transactions compared to the same period in 2017.  In addition, there were 30 developer units closed at Vista Blue in the last several months.
Let's recap the 1st half of the year in condominium re-sales on Singer Island and the comparison with 2017: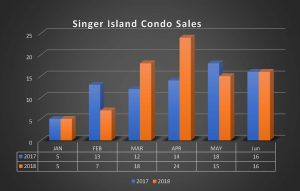 Approximately forty-seven percent of the re-sales (46) were below $500K; in 2017, 49% of the sales were below $500K.
The highest re-sale for June was Ritz 2404A at $2,800,000.  There have been eight sales at the Ritz Carlton Residences in the first half of 2018 (Walker Real Estate Group has been involved in 50% of them) compared to only three sales for the same period last year.
There has been no short sale in 2018-to-date.
Condo inventory ended the quarter at 157 units.
Price per square foot of the older condos (built 1969-1989) ended the quarter at $318, steady with the same period in 2017.  The price per square foot of the newer condos (built 2003-2008) finished at $616, a 17% increase compared to this period in 2017.
CLICK HERE: Singer Island 1st Quarter 2018 Market Update
CLICK HERE: Singer Island March 2018 Market Update
Tax Cuts 2.0?
As we head into the 2018 election season, there is a great deal of talk among Republicans, both in the White House and in Congress, to pursue what is being referred to as "tax cuts 2.0."
This new round of tax cuts center around the following areas:Market Update_063018
Middle-class focused. Make the personal income tax cuts in the 2017 Tax Cuts and Jobs Act permanent. They are currently set to expire after 10 years from enactment of the 2017 plan; this was done to accommodate budgetary requirements. Letting people keep more of their income and creating a greater incentive to work and invest, which these changes help accomplish, was a good idea in 2017 and will continue to be a good idea eight years from now.
Lower corporate tax rate.  While the corporate tax rate was reduced by 14 percentage points, to 21% from 35%, under the Tax Cuts and Jobs Act, a further reduction to 20% is being proposed; the idea is to keep pace with the rest of the world economies. Before the tax overhaul, the U.S. had one of the highest corporate tax rates among countries in the developed world.
Encourage savings.  Institute what is known a "universal savings accounts" (USA). These accounts would treat savings and investments in a way that is similar to Roth Individual Retirement Accounts (IRAs). The main difference is that there are no time or age limits associated with when funds are withdrawn. The point is that with USA accounts there would be no such thing as "early withdrawal." Funds could be withdrawn from such accounts at any time and for any purpose that the saver thinks are best. From an economics perspective, the point of implementing such accounts is not simply to encourage saving and investment, which they would, but ameliorate the bias that exists in the present tax code against saving and in favor of consumption.
Pensions.  Included in the proposal is the "Retirement Enhancement and Savings Act".  RESA is a bundle of small tax changes that seeks to increase options for workers to voluntarily save. This would make it easier for small businesses to join multiple employer plans, which would be a boon for gig workers. It also would give employers that sponsor traditional pension plans some relief from tax requirements that have led to the shuttering of those plans.
The House expects to take up the bill this fall prior to the midterm elections.  House passage seems certain, but Senate passage could see issues with several of the provisions and face an uphill battle since 60 votes will necessary.  In any case, presenting this bill just prior to elections will make for interesting politics.
The Walker Real Estate Group keeps an eye on the pulse of the market and informs its customers of the trends so they can make better decisions whether it's buying, selling or just renting their Singer Island property. We are the Number One source for "What's Happening" on the Island!
We are heading towards a banner year for the Walker Real Estate Group; as the #1 Sales Team on Singer Island. Providing our customers a true concierge experience has been a major factor in our success. Trust, integrity and knowledge of the market is our number one priority.
Call US today for a free confidential interview!
For more information on specific condominium sales activity contact Jeannie at 561-889-6734 or email her at [email protected]