As we end the 2nd quarter of 2019, a decelerating of real estate activity can be seen on the island.  There were 86 condominium re-sales on Singer Island through the 2nd quarter of 2019, a twelve percent decrease over the same period in 2018; sales volume saw a 18% decrease as well decreasing from $80.6M this time in 2018 to $65.8M this quarter.  As the below chart exhibits, the 2nd quarter tends to provide the greatest activity for the year.  The 2nd quarter 2019 had the least number of transactions compared to the previous three years.
Let's recap the 2nd quarter in condominium re-sales on Singer Island and the comparison with 2018: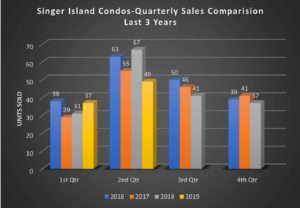 Approximately fifty-nine percent of the sales (51) were below $500K; 12% more than 2018.
The highest re-sale this quarter was Ritz Carlton PH-1A at $8,500,000.
There were no short sales in this period.
Condo inventory ended the quarter at 146 units; down 7% from this time last year.
Price per square foot of the older condos (built 1969-1989) ended the quarter at $331, increasing 4% over the same period in 2018.  The price per square foot of the newer condos (built 2003-2008) finished at $698, a 13% increase compared to the 2nd quarter of 2018.
CLICK HERE: Singer Island 2nd Quarter 2019 Market Update
CLICK HERE: Singer Island June 2019 Market Update
Housing Market Expected to Realize the Positive Impacts of Low Mortgage Rates in 2019:
Concern about future world economic growth and uncertainty around trade and monetary policy have put downward pressure on interest rates. As of the first week of July, the U.S. weekly average 30-year fixed mortgage rate was 3.75%, the lowest since September of 2017. Low mortgage rates along with a strong labor market will help housing markets post modest growth over the next year and a half. Refinance mortgage originations are expected to receive a boost in 2019, increasing about 20% relative to 2018.
While real GDP grew at an annual rate of 3.1% in the first quarter, it is unlikely to persist into the second half of 2019. Second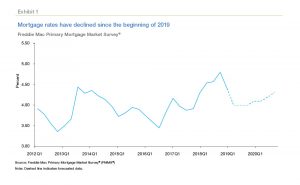 quarter growth will be weaker than first quarter growth coming in around 1.5% – 2% for the quarter. In the second half of the year, trade tensions* and the waning effects of last year's fiscal stimulus may put downward pressure on growth. For the full year 2019, GDP growth of 2.2% is forecasted. The surge in gasoline prices in the second quarter of 2019 and carryover effects on other goods and services will likely lead to higher consumer prices. Due to these increasing costs, combined with the possible effects on import prices from trade disputes*, consumer prices could rise by 3.0% and 2.4% in the second and third quarter of 2019, respectively. This upward revision increases the forecast for consumer price growth in 2019 to 2.1%.
The employment situation report released by the Bureau of Labor Statistics for June showed that the unemployment rate ticked up to 3.7% but was still near 50-year lows. A strengthening labor market will see the unemployment rate inching up in the second half of the year but remaining at the low end of its historical range. Overall, the unemployment rate is expected to stay unchanged from the previous forecast at 3.8% and 3.9% in 2019 and 2020, respectively.
Mortgage rates continue to decline since the beginning of 2019
Concerns about global growth and ongoing trade disputes* have pushed long-term interest rates lower resulting in mortgage rates seeing their lowest level since the fall of 2017. Mortgage rates are expected to follow Treasury yields with the 30-year fixed-rate mortgage averaging 4.1% in 2019, before increasing modestly to 4.2% in 2020
Homes sales showing signs of recovery
Strengthening homebuilder confidence, an increase in the level of housing permits, and low mortgage rates are expected to translate into stronger housing starts and increased home sales. The annual forecast for housing starts has increased to 1.26 million and 1.35 million in 2019 and 2020, respectively. Home sales are expected to reverse the 2018 slump and come in stronger at 6.03 million in 2019 before surpassing 2017 levels and increasing to 6.19 million in 2020.
In line with recent trends, house prices are expected to appreciate 3.6% in 2019 before moderating in 2020 at 2.7%, a slightly higher growth rate from last month's forecast.
* Note: All forecasts will have to be re-evaluated should final trade talks with china have a positive outcome for the U.S.
The Walker Real Estate Group keeps an eye on the pulse of the market and informs its customers of the trends so they can make better decisions whether it's buying, selling or just renting their Singer Island property. We are the Number One source for "What's Happening" on the Island!
The Walker Real Estate Group, as the #1 Sales Team on Singer Island, believes that providing our customers a true concierge experience has been a major factor in our success. Trust, integrity and knowledge of the market is our number one priority.
Call US today for a free confidential analysis of your home!
For more information on specific condominium sales activity contact Jeannie at 561-889-6734 or email her at [email protected].