"Keeping your finger on the pulse of the market is critical when looking to buy or sell your home." The Walker Real Estate Group brings their customer base "Just the Facts" enabling them to make knowledgeable decisions with regard to the real estate world around us…"
It's hard to believe that the first six months of 2017 are behind us.   The real estate condo market on Singer Island is still struggling to recover to its 2015 levels, 2016 was an off-year for condos, especially the luxury units; and in some respects, 2017 is worse.  There were only 84 condominium re-sales on Singer Island in 1st six months of 2017; 15 percent fewer transactions as the same period in 2016.
Let's recap the 1st half of the year in condominium re-sales on Singer Island and the comparison with 2016:
Approximately forty-nine percent of the sales (61) were below $500K; in 2016, 61% of the sales were below $500K.
The average Days-on-Market (DOM) for these sales have decreased to 124 (approximately 4 months) compared to 131 days for this period last year.
The highest re-sale this month was Ritz 2401A at $2,700,000.  There have been only three sales at the Ritz Carlton Residences since April 2016, all in the last two months; and at significantly lower prices.  The Ritz building restoration has been an additional drag on sales.
There was one short sale in June, the only one for 2017-to-date.
Condo inventory ended the quarter at 153 units, significantly down from the running average.
Price per square foot of the older condos (built 1969-1989) ended the quarter at $320, a 10% increase over the same period in 2016.  The price per square foot of the newer condos (built 2003-2008) finished at $528, a 5% decrease compared to this period in 2016.
CLICK HERE: Singer Island 2nd Quarter 2017 Market Update
CLICK HERE: Singer Island June 2017 Market Update
Have You Thought About Re-financing?
Nearly 4.5 million borrowers are eligible to refinance and lock in savings on their monthly mortgage payments but haven't done so, according to a new report from Black Knight Financial Services.  The average borrower stands to save $260 a month, and nearly 700,000 borrowers could save $400 or more per month, the report shows.
According to mortgage buyer Freddie Mac the benchmark 30-year rate reached a new low for the year last week; the 30-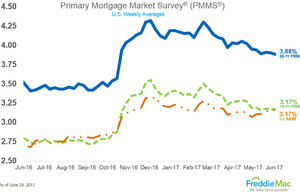 year fixed-rate mortgage averaged 3.88 percent, down from 3.90 percent last week. The rate stood at 3.48 percent a year ago and averaged a record low 3.65 percent in 2016.
"The recent pause in the upward movement of interest rates continues to encourage late-to-the-game borrowers to refinance," says Lynn Fisher, the Mortgage Banker Association's vice president of research and economics.
Why aren't many current homeowners not refinancing?
"Our data doesn't tell us about motivation," says Ben Graboske, senior vice president of data and analytics at Black Knight Financial Services. "It leaves us to surmise that the reason is apathy, lack of awareness and education."
Some homeowners may still be underwater on their home loans and unable to refinance yet, owing more than what the home is currently worth. Other owners may have a low credit score blocking them from taking advantage of lower rates.
Interest rates in the U.S. are likely to remain low, and U.S. benchmark yields hit record lows last week. The continuing European market uncertainty, declining British pound and strengthening of U.S. dollar make it less likely that the Federal Reserve will move rates up or take other tightening measures this year. That has far reaching implications for U.S. real estate markets.
Also, the 15-year, fixed-rate home loan, popular with homeowners seeking to refinance their mortgages, was unchanged last week at 3.17 percent.
Mortgage rates have remained low even though the Federal Reserve has been raising short-term interest rates. The Fed has increased its key rate by a quarter-point three times since December, most recently this month, to a range of 1 to 1.25 percent.
At the same time, would-be home buyers are facing higher prices and fewer options. Sales listings have plunged 8.4 percent over the past 12 months to 1.96 million. The median sales price in May rose 5.8 percent from a year ago to $252,800.
Data issued last Wednesday by the National Association of Realtors showed that Americans signed fewer contracts to buy homes in May, the third straight monthly decline and evidence that a shortage of homes for sale has suppressed purchases.
The Walker Real Estate Group keeps an eye on the pulse of the market and informs its customers of the trends so they can make better decisions whether it's buying, selling or just renting their Singer Island property. We are the Number One source for "What's Happening" on the Island!
The Walker Real Estate Group, as the #1 Sales Team on Singer Island, believes that providing our customers a true concierge experience has been a major factor in our success.  Trust, integrity and knowledge of the market is our number one priority.
Call US today for a free confidential analysis of your home!
For more information on specific condominium sales activity contact Jeannie at 561-889-6734 or email her at [email protected].