To our friends, colleagues, and customers…
We hope you are staying healthy and safe.
In these trying times, as we all navigate through uncertainty, at Walker Real Estate Group, we want you to know, we are "Open for Business".  Every effort is being made to connect with our customers/buyers/sellers via the internet. We have been using "visual tours", face time or zoom meetings to discuss and show our beautiful properties.
Walker Real Estate Group had an excellent start to 2020.  There was momentum in the market that could have continued until Covid-19 virus slowed everything down.  In our condominium market of "discretionary" second home sales, many prospective buyers headed back to their home state/country to be with family.  Our buyers do not appear to be leaving the market, they are merely putting purchases on "hold" and will likely come back strong as the Covid-19 virus subsides.
In the near future, there could be a realization that Real Estate ownership may be a safe place to weather volatility in the stock market.  Robert Schiller, professor of economics at Yale recently said, "With stock market volatility and coronavirus worries, people may see a home as a good alternative investment right now."
We are here to stay connected with our buyers and sellers.  Our closings are still taking place.
Please know that we are here for you if you have any questions or if there is anything we can do for you here in Florida.
The strong economic start to 2020 was quickly dashed by the outbreak of the COVID-19 virus.  The numbers reported below account for mainly the first two months of the year.  There were 47 condominium re-sales on Singer Island in 1st quarter of 2020, a thirty percent increase over the same period in 2019; sales volume saw a 45% increase as well increasing from $26.7M this time in 2019 to $38.7M this quarter.  This does not take into account the 16 developer closings at 5000 North Ocean.
Let's recap the 1st quarter in condominium re-sales on Singer Island and the comparison with 2019: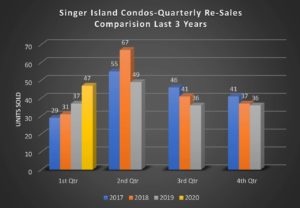 Approximately thirty-four percent of the sales (16) were below $500K; 36% fewer than 2019.
The highest re-sale this quarter was VistaBlue 16B at $4,200,000 ($1,153/SF).
There were no short sales in this period.
Condo inventory ended the quarter at 152 units; down 8% from this time last year.
Price per square foot of the older condos (built 1973-1989) ended the quarter at $351, increasing 5% over the same period in 2019.  The price per square foot of the newer condos (built 2003-2008) finished at $566, a 4% decrease compared to the 1st quarter of 2019.
CLICK HERE: Singer Island 1st Quarter 2020 Market Update
CLICK HERE: Singer Island March 2020 Market Update
Walker Real Group brings our buyers and sellers up to date information enabling them to make informed decisions.
The Walker Real Estate Group keeps an eye on the pulse of the market and informs its customers of the trends so they can make better decisions whether it's buying, selling or just renting their Singer Island property. We are the Number One source for "What's Happening" on the Island!
Trust, integrity and knowledge of the market is our number one priority.
Call US today for a confidential analysis of your home!
For more information on specific condominium sales activity contact Jeannie at 561-889-6734 or email her at [email protected].