The effect of a strong economy seems to be having a positive effect on real estate as we end the 1st quarter of 2019.  There were 36 condominium re-sales on Singer Island in 1st quarter of 2019, a twenty percent increase over the same period in 2018; sales volume saw a 7% increase as well increasing from $23M this time in 2018 to $26.6M this quarter.
Let's recap the 1st quarter in condominium re-sales on Singer Island and the comparison with 2018: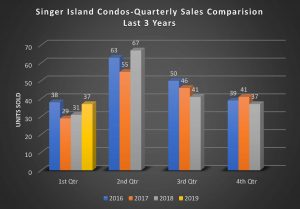 Approximately fifty-three percent of the sales (19) were below $500K; 3% more than 2018.
The highest re-sale this quarter was Ocean's Edge 1501 at $3,050,000 ($785/SF).
There were no short sales in this period.
Condo inventory ended the quarter at 185 units; up 4% from this time last year.
Price per square foot of the older condos (built 1969-1989) ended the quarter at $335, increasing 7% over the same period in 2018.  The price per square foot of the newer condos (built 2003-2008) finished at $588, a 7% decrease compared to the 1st quarter of 2018.
CLICK HERE: Singer Island 1st Quarter 2019 Market Update
CLICK HERE: Singer Island March 2019 Market Update
Just a Couple of Points:
2019 Mortgage Rates
The key U.S. 30-year loan rate marked its steepest weekly drop in a decade just two weeks ago and has held steady since then.
Last week, Mortgage buyer Freddie Mac said the average rate on the 30-year, fixed-rate mortgage ticked up to 4.08 percent from 4.06 percent – which had plunged from 4.28 percent. The average rate on the benchmark loan stood at 4.40 percent a year ago. The decline made purchasing a home a lot cheaper, and potential buyers have been rushing to take advantage of the cheaper borrowing costs. Lower mortgage rates, slowing home price increases and a pickup in the number of available homes appear to be rejuvenating home sales after a slowdown last year.
An index measuring applications for mortgage loans soared 18.6 percent in the week ended March 29 from a week earlier, according to the Mortgage Bankers Association.  With economic growth showing signs of slowing in the U.S. and abroad, interest rates have eased. Reflecting dampened expectations for growth, the Federal Reserve recently left its key interest rate unchanged and signaled that it's unlikely to raise rates this year; a sign the equities market has picked up on.
Fed Chairman Jerome Powell has said the U.S. economy faces several headwinds, including slowing global growth, a trade war with China and fading impacts from the tax cuts that took effect last year.
Emotional Support Animals
The Florida Legislature has turned its focus to emotional support animals under two bills introduced in the House (HB 721) and Senate (SB 1128). Three committees were scheduled to hear each bill in their respective houses, and both have passed two committees so far. If passed by their third and last committee, they will head to the full floor of the House and Senate for a vote.
Florida's existing law for service animals mirrors federal Americans with Disability Act (ADA) laws; however, state law does not address emotional support animals (ESAs). As a result, someone can currently comply with Florida law when dealing with ESAs but violate federal law. These bills would correct that federal-state discrepancy by adding ESAs into Florida statues if passed by the Florida Legislature and signed into law by Gov. Ron DeSantis.
If passed, the bills would also add a punishment for people who falsely claim that a pet is an emotional support animal. In the current version of the bill, which is still subject to change through amendments, the text reads:
"A person who falsifies written documentation … for an emotional support animal or otherwise knowingly and willfully misrepresents herself or himself, through conduct or verbal or written notice, as using an emotional support animal and being qualified to use an emotional support animal, commits a misdemeanor of the second degree … and must perform 30 hours of community service for an organization that serves individuals with disabilities, or for another entity or organization at the discretion of the court, to be completed in not more than 6 months."
The misdemeanor addition is new as it applies to ESAs, but it already exists in Florida law with respect to service animals.
The ADA defines service animal as an animal trained to do work or perform tasks benefitting a person with a disability. An emotional support animal (ESA) is not the same thing as a service animal, but the federal Fair Housing Act (FHA) prohibits discrimination in housing access based on a person's disability and requires reasonable accommodations. Unlike a public accommodation under the ADA, a housing provider must also make FHA reasonable accommodations for an emotional support animal.
In relation to ESAs in housing, a provider may ask a person to submit reliable documentation of a disability and his or her disability-related need for an ESA, including a written certification from a medical professional.  The bills in the Florida Legislature currently define ESAs; require a housing provider to offer equal access to a person with an ESA; and prohibit the charge of any additional fee associated with an ESA.
The bills permit a housing provider to request additional information regarding an ESA, including written documentation:
From a listed type of licensed health care practitioner
Verifying the applicant's disability or disability-related need
Verifying the ESA provides support alleviating one or more symptoms or effects of a disability or disability-related need
If the bills become law as currently presented, they would require the Florida Department of Health (DOH) to establish the format a health care practitioner must follow when providing ESA documentation to a patient, and it grants rule-making authority to DOH relating to ESA documentation requirements.  If passed and signed by the governor, the bill becomes effective on July 1, 2019.
The Walker Real Estate Group keeps an eye on the pulse of the market and informs its customers of the trends so they can make better decisions whether it's buying, selling or just renting their Singer Island property. We are the Number One source for "What's Happening" on the Island!
The Walker Real Estate Group, as the #1 Sales Team on Singer Island, believes that providing our customers a true concierge experience has been a major factor in our success. Trust, integrity and knowledge of the market is our number one priority.
Call US today for a free confidential analysis of your home!
For more information on specific condominium sales activity contact Jeannie at 561-889-6734 or email her at [email protected].