It seems that the average 30-year fixed mortgage rate has been bumping against the 4% ceiling forever.  This week it hit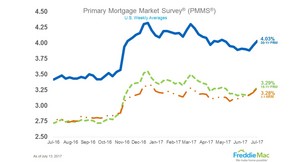 4.03% up from 3.96% last week; and over 4% for the first time since May.  It stood at 3.42 percent a year ago and averaged a record low 3.65 percent in 2016.  The rate on 15-year, fixed-rate home loans, popular with homeowners who are refinancing their mortgages, rose to 3.29 percent last week from 3.22 percent.
Mortgage rates still remain historically low, even though the Federal Reserve has begun to ratchet up short-term interest rates. In testimony to Congress this week, Fed Chair Janet Yellen raised the possibility that the Fed would consider slowing the pace of its interest rate increases if inflation remained persistently below its target level.
For more information on specific condominium sales activity contact Jeannie at 561-889-6734 or email her at [email protected].