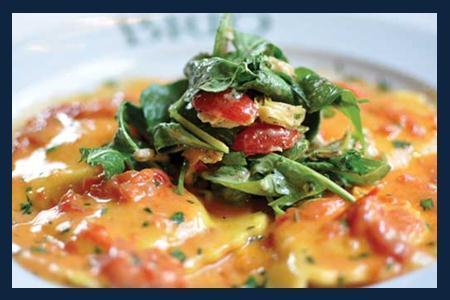 For the diner, it all means a windfall of gastronomic options, from the mainstream to the innovative, as the new dining spots have built upon the landscape where old favorites like Cafe Chardonnay, Carmine's Trattoria and Vic & Angelo's continue to thrive. It means choices beyond chain restaurants. And it means taking part in the rise of a new "dining destination" scene, where the food is an increasingly popular attraction.
Northern Palm Beach County which encompasses the towns, villages and cities of Palm Beach, West Palm Beach, North Palm Beach, Palm Beach Gardens, Singer Island, Juno Beach, Jupiter and Tequesta, has several hundred restaurants ranging from a quick bit to fine dining.
It is impractical to list them all; so what we have done is create a Restaurant Guide with over 100 eateries that have been recommended by our friends and associates.  It is our pleasure to offer you this FREE guide for your convenience and to enjoy whether you are in the area for a short visit or it's your year-round home.
Just drop us an email and we forward you either an "electronic version" or hard copy by mail, your choice.
Meanwhile, listed below is a half dozen or so of our Favorites:
The River House                                          Brio (at the Gardens Mall)