Welcome to Jupiter
Advice is a click away
What Would You Like To Know?
Jupiter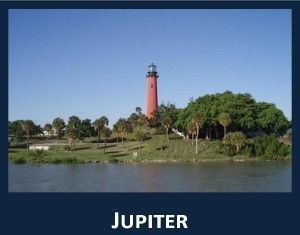 Jupiter is a town located in Palm Beach County, Florida. According to the 2010 census, the town had a total population of 55,156. It is one of the northernmost suburbs of the Miami metropolitan area.
The area where the town now sits was originally named for the Hobe Indian tribe which lived at the mouth of the Loxahatchee River, and whose name is also preserved in the name of nearby Hobe Sound.[5] A mapmaker misunderstood the Spanish spelling "Jobe" of the Indian name "Hobe" and recorded it as "Jove". Subsequent mapmakers further misunderstood this to be the Latin translation of the god Jupiter, and they anglicized the name from Jove to "Jupiter". The Roman god Jupiter (or Zeus in the Greek mythology) is the chief Roman god, husband of Juno, and god of light, of the sky and weather, and of the state and its welfare and its laws. It inspired a neighboring town to name itself "Juno Beach".
The most notable landmark is the Jupiter Inlet Lighthouse, completed in 1860. Made of brick, it was painted red in 1910 due to discoloration caused by humidity. Hurricane Jeanne in 2004 sandblasted the paint from the upper portion of the tower, and the tower was repainted using a potassium silicate mineral coating. The lighthouse is often used as the symbol for Jupiter.[6]
Property Listings
Property listings for Jupiter, Florida.
Market Analysis
Market analysis data for Jupiter, Florida.
Real Estate Market
Connector.

Median sale price last 12 mo.

Connector.

Avg. property tax

Connector.

Sale price lowest 12 mo.

Connector.

Sale price highest 12 mo.
Photo Gallery
View our gallery below for Jupiter, Florida.
Area and Demographic Statistics
This part graphically explains area and demographics stats for Jupiter, Florida.
Number of households
38,793
Household Avg. Income
101,903
Avg. year dwelling build
1986
| | |
| --- | --- |
| Population | 91,746 |
| Population Density | 636 |
| Median Age | 46 |
| | |
| --- | --- |
| Average value of the dwelling in which household lives | $380,036 |
| Avg. years a household has lived in dwelling. | 17 years |
Show me the National Index Comparison
Schools
This part contains all educational institutions in Jupiter, Florida.
The Best in
Jupiter
Browse through the top rated businesses in the most popular categories Jupiter, Florida has to offer.
Dine
Drink
Shop
Coffee
Workout
Groom
Pet Care